Walmart Slip and Fall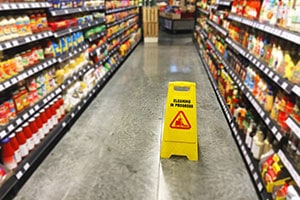 There is nothing more upsetting and life-destroying than an accident. It's even worse when that accident happens at a place that has promised you the safety and security of an affordable shopping experience. Such experiences are readily advertised in places such as Walmart, a store that likely everyone in South Florida is more than familiar with. Walmart's floors shine and are kept clean and tidy by helpful employees who want nothing more than to see their customers enjoy their day. Of course, that caring and helpful air vanishes when someone has an accident, and suddenly the corporate training kicks in. They're trained to avoid such situations, to ensure that there is no possible reason for the company to get stuck with the bill of an accident that was very clearly their fault. The Walmart slip and fall attorneys at Wolfson & Leon in Fort Lauderdale understand that it can be frustrating when it seems like no one is on your side. But after you've gotten you or your loved one to a hospital and ensured that you're not in a life-threatening situation, you should take the time and find the best Fort Lauderdale Walmart accident lawyer to help you figure out what to do.
Wolfson & Leon has been working with the good people of Fort Lauderdale for more than fifty years, ever since they opened their doors in 1963. They've dealt with numerous cases of premises liability claims. Premises liability deals with accidents that have taken place in a public or private area. It means that when you walk into public or private property, you're given a promise of reasonable safety, and when that promise is broken due to circumstances out of your control, then those who own the premises should be held responsible.
A slip and fall may sound almost comical. Something like a gag from a vaudevillian-like show where people slip on banana peels. Unfortunately, the reality can be much more disastrous, and it usually is. That's why it's important that you give a call to those that can help you understand the situation you or your loved one are in. It's necessary that they can fight for the compensation you need to see that you recover quickly and with as little issue as possible. Calling the Fort Lauderdale Walmart slip and fall lawyers of Wolfson & Leon will take you on the first step towards the compensation you deserve and will ensure that you're not left out to dry by a company that's looking to do nothing but cover its own behind. Call us at (954) 289-5954 for your free consultation right away.
Walmart Slip and Fall Attorneys in Fort Lauderdale
Taking the time out of your day to enjoy some low-price shopping at Walmart should not come with the hassle of a slip and fall. You've come to shop, get what you need, possibly get a small bite to eat at the attached McDonalds or Subway. Walking through the store and suddenly finding yourself on your back, with a horrible injury and shooting pain through your body is as disorienting as it can be damaging. It's important that after such an accident you take the time and see if you can find out who is responsible. You should not have to bear the burden of medical bills and recovery on your own, especially if such an accident was not completely due to your own actions.
The Fort Lauderdale personal injury lawyers at Wolfson & Leon have been helping the fine people of Fort Lauderdale for many decades, and they're more than happy to extend that support to you. Along with Walmart slip and fall accidents, they've represented others in similar Walmart cases such as:
Miramar Walmart slip and fall lawyer
Pembroke Pines Walmart trip and fall lawyer
Fort Lauderdale Walmart trip and fall lawyer
Davie Walmart parking lot car accident lawyer
Cooper City Walmart accident attorney
Hollywood Walmart attorney for Walmart accidents
Fort Lauderdale Walmart wrongful death attorney
Hallandale Beach Walmart negligent security attorney
Fort Lauderdale Walmart Personal Injury Attorney
At Wolfson & Leon, the Fort Lauderdale Walmart accident attorneys are more than ready to help you get the compensation you deserve. With offices located in Fort Lauderdale, Miami, West Palm Beach and Fort Myers, they can meet with you to speak on your accident and see if you have a case or not. They can speak over the phone right away too if you call (954) 289-5954 to speak to an attorney. Jonah Wolfson is a bilingual personal injury lawyer in Fort Lauderdale as well as the manager of the firm. His Fort Lauderdale personal injury team remains ready to speak to you when you pick up the phone. Do yourself and your loved ones a favor and get in contact with someone who can help you right away. Do it today – don't be a silent victim.