Elevator and Escalator Accident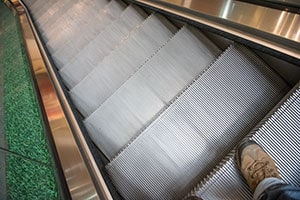 If you or a loved one has been injured in an elevator or escalator accident in Fort Lauderdale, you should know that you are not alone. Many people get harmed in such accidents all around Florida and the United States.
If that happens to you, the first thing to do is call the best Fort Lauderdale personal injury lawyer you can find for initial advice on your legal options. You should know that you may be entitled to compensation for the injuries suffered due to the accident. The commercial establishment where the elevator or escalator is located is responsible for their maintenance. If they fail to maintain it properly and the leads to injuries and deaths, they can be held responsible for the damages that result. These defendants can be anything from shopping malls, retail stores, hotels, resorts, casinos, and other commercial entities. Keep in mind that if you get injured on their premises, they may be liable to pay for your injuries. If it was their fault, then there is no reason that you should bear the financial impact of their negligence.
Call our bilingual Fort Lauderdale elevator and escalator accident attorneys at Wolfson & Leon for help. We have 50 plus years of experience in handling personal injury cases and we are ready to help you too. Our consultations are free, and we don't ask for any fees until we recover for our clients. Call us now at (954) 289-5954.
Elevator and Escalator Accidents in Fort Lauderdale
Fort Lauderdale is a city in the Miami metropolitan area, located between West Palm Beach on the north and Miami on the south. In the past, it was known as a spring break paradise, but nowadays, the city tends to cater to older and wealthier clientele. There is an abundance of shopping malls, restaurants, retail stores, hotels, resorts, casinos, golf courses, and other venues tailored for their needs.
Many escalators and elevators are usually located there for the convenience of the guests, but sometimes, they break and cause inconveniences, including personal injuries and even deaths. There are several reasons for these accidents. The most common ones related to elevator accidents include, but are not limited to:
Malfunctions of control and wiring
Sudden drop of the elevator car
Elevator being stuck between floors
Door of elevator opening earlier than needed, exposing riders to risk
Escalator accidents in Fort Lauderdale are often related to:
Injuries sustained during embarking or disembarking of the escalator
Having clothes or shoes entrapped by the escalator, causing falls and injuries
Escalator accidents caused by missing steps
Escalator accidents caused by poorly maintained escalators
Too much space between steps and walls leading to injuries
Missing portions of track on escalators resulting in serious injuries
Approximately 17,000 people are injured in elevator and escalator accidents every year in the United States. These injuries include anything from bruises to more serious injuries such as brain injuries, neck injuries, broken bones, and other injuries. There are also approximately 30 deaths per year occurring due to these escalator and elevator accidents. Machines of these type are heavy duty and utilize large type engines or pully systems to operate. The sheer weight of them alone is enough to be able to cause serious damage to a person. As stated, these machines must be properly maintained to ensure the expected operations and the safety for the users. When these standards are not met, it increases the possibility for an accident that could lead to serious injuries.
Fort Lauderdale Elevator and Escalator Accident Lawyers
Our bilingual Fort Lauderdale elevator and escalator accident lawyers at Wolfson & Leon serve good folks who have been injured in elevator and escalator accidents in Fort Lauderdale and throughout South Florida. Call us at (954) 289-5954 for free consultations. We handle cases on contingency basis, which means that you'll pay nothing unless we recover for you. We have offices in Fort Lauderdale, Miami, Fort Myers and West Palm Beach to serve you. Call us today.