Slip and Fall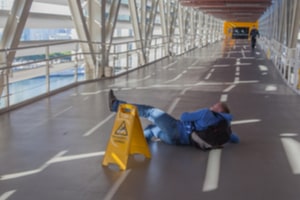 Slip and fall accidents are common, almost comical in appearance, and most people would think little on what could come from such incidents. The immediate reaction is usually to get up, brush yourself off, and make a hasty exit as to not embarrass yourself further. What's important to realize however is that when you come into a private or public property, you're given a promise. A promise of safety and of a well-kept workplace by the owner, employees, and the company that owns the building. When that slip and fall accident happens, that's not just an accident that may harm you worse than you may realize, it is also a broken promise to you. When such a promise is broken, and you're hurt, it is important to know who to turn to and what your options are.
That is the reason the Fort Lauderdale slip and fall attorneys at Wolfson & Leon are there to answer any and all questions that you may have. They've been working for several decades to give the citizens of Fort Lauderdale and Florida a fighting chance when it comes to personal injury and wrongful death law, and their years of service are best put to use in helping you get the compensation you deserve. Giving them a call at (954) 530-3918 in order for you to speak to an attorney right away is one of the best moves you can make in order to know your options. They do not seek to waste your time in frivolously looking for a case when it isn't there, so they'll let you know and get you on the right track as soon as possible.
Slip and Fall Accident in Fort Lauderdale
Fort Lauderdale is known for its generous influx of tourists year-round, they come for the wonderful beaches, the fantastically cool winter weather, and the prominent and famous nightlife that the city offers. Some of the places that many visits include
Sway Nightclub
Escape Lounge
Stache Drinking Den + Coffee Bar
Capone's
America's Backyard
Euro Night Club
Round up Nightclub
The Manor
Soundbox Miami
The 80's Disco Club
A night of fun is guaranteed at these prominent places, all rated highly on Yelp and other websites. Of course, a night out with friends or your significant other comes with some risk. The risk may be negligible, but it's still there. Some people may not be aware, but while there may be only some minor bruising and scrapes done by a simple slip and fall accident, the worst injuries could vary wildly, including:
Injury to the spinal cord, including compression and paralysis
Heavy scarring that requires attention by a professional plastic surgeon
Injuries to the head that include disfigurement, bruising, swelling, and cuts
Chipped teeth, broken noses, fractured eye sockets and other possible facial injuries
One of the most common effects of hitting your head forcefully, a concussion
Traumatic brain injuries that may take long in diagnosing, and would soon require hospitalization, along with constant care or treatment
Injuries to the back including bruises and lacerations, ligament tearing, strains, sprains, and bulging discs
Fort Lauderdale Slip and Fall Lawyer
Here at Wolfson & Leon, we work with personal injury law to ensure that you're taken care of and have the information you need to act on what you deem to be the best move forward. We're here to guide and ensure that if you're deserving of compensation, you receive it. We treat every case as if it is going to court, so your case is treated with the care and professionalism that it deserves.
Jonah Wolfson has decades of representation in personal injury and wrongful death law, he and his team of personal legal professionals are standing by to take your call and lead you to compensation and peace of mind. He is a bilingual personal injury lawyer in Fort Lauderdale and is waiting to speak to you right away if you call their office at (954) 530-3918.
Wolfson & Leon has been serving the people of Fort Lauderdale for decades, and they're more than happy to add you to their list of satisfied clients. The Fort Lauderdale personal injury lawyers also have offices in Fort Lauderdale. Miami. West Palm Beach and Fort Lauderdale. Call them today – they are here to help you.