Trip and Fall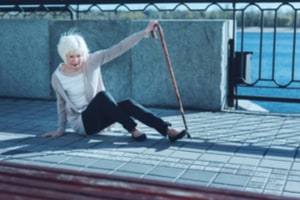 Accidents are what we can fortunately call an uncommon occurrence in our daily lives. We can go years at a time being totally aware of our faculties, being careful where we step and where exactly our feet are planted. That care can deteriorate over time, especially when that care turns into routine, and that routine becomes monotonous. Soon enough that care has eroded away, and we're left with the constant step towards our job, our home, the same restaurant we've been to time after time. Then without warning, that routine is broken, and we're faced with one of two possibilities. Either we trip, land on our behinds, and are non-worse for wear, or in a more serious case, we trip and fall on something vital, and suddenly what had been a simple and predictable afternoon turns into a life altering evening, as you're rushed with doctors, hospitals, emergency surgery, or in the absolutely worst cases, you never wake up at all.
Trip and fall accidents are such incidents that could leave your life permanently altered. These incidents can leave you not only in a state of pain and suffering but paying off hospital bills that will hound you for years to come. That's why it is important to contact the best Fort Lauderdale trip and fall lawyer you can contact immediately after such an incident.
The Fort Lauderdale trip and fall lawyers at Wolfson & Leon are trained professionals that have been working with personal injury law for decades, and they'll have the information you need for you to make an informed decision as to what step to take next. They'll be able to determine if you have a case worth pursuing, and just what compensation you might expect to be given due to your incident. Calling them right away at (954) 530-3918 gives you the most breathing room in figuring out your situation and getting the peace of mind you deserve to see your situation through to the end.
Fort Lauderdale Trip and Fall Injuries
Those that have suffered from a trip and fall accident can likely attest to the damage that it can cause on one's body. What most people do not understand is that the human body is fragile, while at the same time being very durable, we may survive situations that should cause us disfigurement with little injury, only to suffer something as common as a trip and fall and be faced with a suddenly new and horrible reality. Some injuries that have been known to be caused by a trip and fall include:
Broken bones around the mouth
Broken bones around the eyes
Cheek, jaw, and skull fractures
Broken hands, fingers, or arms
Permanent scarring and disfigurement
Hip fractures and broken ribs
These are just some of the injuries that could happen due to your trip and fall, and they're not in a vacuum, some may happen together, or should you be extremely unlucky, you could find yourself facing them in all at once. What's most important to know is that the places you enter, whether they be public or private property, have promised you the safety of being able to walk comfortably without the fear of injury. Should you find yourself in a trip and fall, then that promise afforded to you has been broken, and now you are owed compensation. Do not make yourself suffer due to the negligence of another or an establishment. If they do not have the time to fix their flooring, to not leave items out for people to trip over, or to easily keep their area clean of debris, then you do not have the time to feel any sort of sympathy for them. What you should focus on is helping yourself or your loved ones and ensuring that you have the compensation that's owed to you.
Fort Lauderdale Trip and Fall Lawyers
The Fort Lauderdale personal injury and wrongful death attorneys are here to help you. They have decades of client representation and service in personal injury and can provide you with an action plan if you decide to pursue a claim. Jonah Wolfson is a Fort Lauderdale personal injury and wrongful death attorney that has been working in South Florida for decades. He and his team of bilingual personal injury attorneys are standing by for your phone call. Give them a call today at (954) 530-3918 to get your free consultation, and know exactly what you need to do to fight for your compensation.