Galleria Mall Accident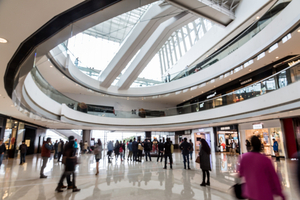 If you were injured at the Galleria Mall in Fort Lauderdale, then you should speak to a Fort Lauderdale mall accident attorney as soon as you can. Understand that the responsible party will begin defending against your claim from the moment you are injured. That is why it is important for you to know your rights and a Fort Lauderdale personal injury lawyer can help you.
At Wolfson & Leon, our Fort Lauderdale accident lawyers have assisted and guided negligence victims in South Florida since 1963. We have law offices where we can meet you by appointment in Fort Lauderdale, Miami and West Palm Beach. We can also come to you whenever it is most convenient. All you have to do is call us toll-free at (954) 289-5954.
The Galleria at Fort Lauderdale
With over 100 stores, offering both food and shopping for their customers, the Galleria at Fort Lauderdale is located at 2414 East Sunrise Boulevard, in Fort Lauderdale, Florida. Sporting 3 anchor stores (Neiman Marcus, Dillard's, and Macy's) as well as over 1,400,000 square feet, and 3 floors, the mall is one of the larger ones in South Florida, compared to malls like Lauderhill Mall or Coral Ridge Mall.
It opened mid-November 1980, as the Galleria, though it first began its life as the Sunrise Center back in the 50s. Originally built as an open-air mall, it was demolished and was replaced by the Galleria that stands there today. The Galleria has always marketed itself as an upscale shopping and dining location.
It is currently managed by the Jones Lang LaSalle Company, or JLL, though ownership is currently held by the Keystone Florida Property Holding Corporation. The Galleria's own website states that is "one of the largest, most upscale malls in Broward County." Like a few of the other malls in Fort Lauderdale, it is conveniently close to the Fort Lauderdale Airport, and several of the other areas in the city which hold high value for tourists and locals alike.
The Galleria Mall boasts an average of 22 million visitors per year. This number of visitors is not only in part from the large Ft Lauderdale population but is also a popular tourist destination. The Galleria Malls offering of fine dining, abundance of stores, its proximity to the beach and surrounding hotels, make it easy for tourists to frequent.
Accidents at Galleria Mall in Fort Lauderdale
When a person decides to visit the mall, the last thing on their mind is potential hazards. However, with the number of visitors that the mall receives on an annual basis and the variety of products and services offered, it is hard to imagine everything always flowing in perfect harmony. Unfortunately, they do not, and when they do not, an accident can occur.
The natural reaction of many people when they fall is to feel embarrassed. They immediately think it is their fault. But that isn't always true. In a mall like the Galleria where there are numerous stores and restaurants, people can trip and fall or slip and fall anywhere. Over the years, our Fort Lauderdale accident lawyers have assisted clients in the following capacities:
Galleria Mall Slip and Fall Attorneys
Galleria Mall Trip and Fall Lawyers
Galleria Mall Car Accident Attorneys in Fort Lauderdale
Galleria Mall Parking Lot and Garage Accident Lawyers
Premises Liability Attorneys Helping Accident Victims at Galleria Mall
Galleria Mall Wrongful Death Lawyers in Fort Lauderdale
Fort Lauderdale Negligent Security Lawyers for Victims at Galleria Mall
Fort Lauderdale Uber Accident Lawyer for Galleria Mall customers
Fort Lauderdale Lyft Accident Attorneys for Galleria Mall shoppers
Fort Lauderdale Personal Injury Lawyers Helping Galleria Mall Accident Victims
The Fort Lauderdale accident attorneys at Wolfson & Leon provide aggressive and responsive legal representation to the South Florida communities such as Rio Vista, Wilton Manors, Sunrise, Plantation, Dania Beach, Hallandale Beach, Hollywood, Pompano. Deerfield Beach, Coral Springs, Parkland, Margate, Lauderhill, Tamarac, Weston, Pembroke Pines, Miramar, Davie and Cooper City. Call us today at 954-289-5954 for your free advice.