Construction Site Accident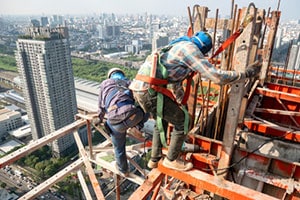 With investors and real estate developers flocking to Fort Lauderdale at record speed, the city has experienced tremendous building growth over the years. Known as a less expensive development alternative to Miami, Fort Lauderdale has seen a rise in the building of new condominiums and homes, commercial real estate, and office structures. With the downtown commercial rental rates expected to grow 48% over the next five years, new construction and renovation of popular sites, such as Las Olas Boulevard and the beachfront, show no signs of slowing down.
Construction sites in cities with a good amount of walking traffic pose hazards to pedestrians. Extensive new building and renovation in highly travelled locations, such as Las Olas Boulevard, can be dangerous to people who work in the area. In addition, the warm and sunny weather attracts millions of tourists to the beaches and exclusive areas of Fort Lauderdale where construction may occur. Pedestrians walking near construction sites can be injured by uneven payment, slippery surfaces, or debris on sidewalks. Cranes or other equipment that hoist materials and equipment overhead can accidently drop heavy items, striking those who may be walking by. Signs, fences, or other construction site obstructions may limit the view of large truck operators, who may accidentally hit pedestrians as they pull into or away from a job.
Victims can sustain serious, even fatal, injuries at building sites. The personal injury lawyers at Wolfson & Leon defend the rights of victims and their families who have been harmed at a construction site. If you or a family member has been seriously injured at a construction site or by a large construction vehicle, you should speak with a Fort Lauderdale construction accident lawyer as soon as possible. Find out what your rights are by contacting Wolfson & Leon at (954) 289-5954.
Who's Liable in a Construction Site Accident?
If you've been injured on or near a construction site or by a construction vehicle, who's at fault? The answer varies based on your situation.
Construction sites often have several contractors working at any time. Plumbers, electricians, and other specialized contractors may be actively working on the site. They may fail to put operate in a safe fashion, creating hazardous conditions for those around the site.
Property owners have a responsibility to ensure that areas around the location are safe and may be held liable in the event of an injury.
Injuries sustained from collisions with construction vehicles may be the responsibility of the company who the truck driver works for. In some cases, if the truck is owned by someone else, they may have liability as well.
If an accident occurs due to faulty materials or equipment, those who manufactured, distributed, or sold the defective items may be held liable.
With so many potential parties that could be at fault, it's important to contact a personal injury attorney as soon as possible. They will review the facts and circumstances of your case and advise you of your options. Personal injury attorneys will help you to build your claim and will represent your interests to insurance companies. Whether they negotiate a settlement or defend your rights in a court of law, engaging the services of a Fort Lauderdale construction site accident lawyer can help you to receive the compensation you need to recover from your injuries.
What Compensation am I Entitled to?
Victims of construction site accidents may require significant medical treatment and continuing care. Depending upon the extent of the injuries, the cost of care can be astronomical. In many situations, victims are unable to work during their recovery, causing a financial burden on their families, especially if they were the primary source of income.
Given the extent of your injuries and their impact on your life, you may be entitled to compensation for pain and suffering. Life-altering injuries can restrict your mobility or impact cognitive ability. An injured victim's life may be forever changed, requiring them to relearn basic skills and new ways to function.
Fort Lauderdale Construction Site Accident Lawyer
The personal injury attorneys at Wolfson & Leon have represented the rights of accident victims since 1963. We defend clients who have sustained construction site injuries, such as:
Lawyer for falling object injury sustained at a Fort Lauderdale construction site
Construction site uneven pavement trip and fall accident injury attorney in Fort Lauderdale
Attorney for construction site accident injury due to collapsing sidewalk in Fort Lauderdale
Overhead crane accident injury sustained at a construction site in Fort Lauderdale
Fort Lauderdale lawyer for flying debris accident injury at a building site
Construction site bridge collapse serious injury attorney in Fort Lauderdale
Construction Site Injury Law Firm in Fort Lauderdale
Victims of construction site accidents in Fort Lauderdale contact the personal injury attorneys at Wolfson & Leon for legal representation. Our Fort Lauderdale construction site accident lawyers help victims to receive the compensation they need to pay for medical bills and future health care, as well as recover lost wages due to an inability to work. We serve clients from our offices located throughout South Florida including Fort Lauderdale, West Palm Beach, Fort Myers, and Miami. If you have been the victim of a Fort Lauderdale construction site accident, call the personal injury attorneys at Wolfson & Leon. For a free and confidential consultation, contact (954) 289-5954 today.