UberEATS Accident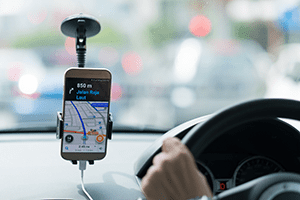 If you were hurt in any kind of Uber accident, including UberEATS, then you should call the Fort Lauderdale Uber accident attorneys at Wolfson & Leon. You can have a free consultation right now by calling (954) 289-5954 so don't delay – get the answers you need.
UberEATS is one of the new realities that we must deal with thanks to the new "Service Economy" that's come out of companies like Uber and Lyft. Many people, especially those who find themselves in need for a secondary income, make their way to these types of companies for employment as "Contractors" that deliver people and now, food. UberEATS convenience cannot be denied, but what also can't be denied is the larger number of drivers on the road.
Any time of day, and very regularly at night, UberEATS can be called on to deliver, even from 24-hour fast food restaurants like McDonalds and Burger King. With this of course, comes the inevitability that these drivers will crash, or collide, either against you, your property, or others. If you've ever found yourself having to deal with an accident or collision as a result of an UberEATS driver, we recommend that you call the Fort Lauderdale car accident lawyers at Wolfson & Leon.
Wolfson & Leon has been around for a little over half a century and they have helped injury victims in South Florida since the very beginning. Even new industries like the "service economy" are understood by the Fort Lauderdale Uber Attorneys at Wolfson & Leon. A call to (954) 289-5954 will assist you with all the information you need to know to make sure your claim is not only legitimate but worth pursuing.
Fort Lauderdale Personal Injury Attorneys
No matter how new the industry, the ways we get hurt as a result of car accidents are still the same. Each one of us has either experienced or known someone who has experienced a car accident. If cars have been around, so having car accidents, and if the industry uses cars as its main component, its likely to know more than a few car accidents in its lifetime. The different types of car accidents can be:
T-Bone Collisions, or one car impacts the side of another Fort Lauderdale Uber car
Rear-end collisions, when a Fort Lauderdale UberEATS impacts the backside of another car.
Sideswipe collisions, or when a Fort Lauderdale UberEATS vehicle scrapes against another while passing it or moving around it.
Front collisions, or when the front of two cars impact each other as the cars come together involving Fort Lauderdale Uber cars.
Even if your industry is new, car accidents are not, and having a tried and tested attorney is heavily recommended. Dealing with insurance companies, or even large corporations that have an interest to protect their drivers can be a tormenting ordeal. Don't leave the litigation up to those with more power, and more money to throw at the problem. You can't expect yourself to fight a large corporation while also dealing with car repair bills, as well as the stressful ordeal of getting yourself checked medically for any sort of injuries. Personal injury is often a natural consequence of a collision. Even if you think you've come out of the ordeal unharmed, there can be injuries that you can't notice at all until it's too late. Some of these injuries could even be life changing or fatal should they be left alone for too long without treatment.
Fort Lauderdale UberEATS Accident Lawyers
Wolfson & Leon's 55 years of service include battling with companies big and small, in service to the good people of Florida. Jonah Wolfson and his team of bilingual Fort Lauderdale personal injury attorneys can review your case quickly, and help not only bring you the peace of mind you deserve, but also the professionalism and care that you and your loved ones expect from your attorneys. Wolfson & Leon has served many communities in Florida including Fort Lauderdale, Lauderhill, Miami, Weston, Pembroke Pines, Boca Raton, Fort Myers, Naples, and even Tampa. Whether you're a resident or a visitor to the Sunshine State, a quick call to (954) 289-5954 will get you your free consultation that is completely confidential and will provide you with the information that you need to know, as well as the necessary next steps to take on your journey through this ordeal.