Rollover Car Accident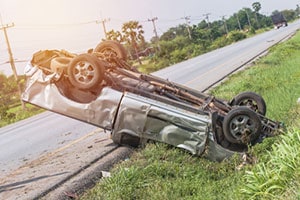 Rollover car crashes are some of the scariest accidents you can experience. Your car is launched on its back, turning over several times before landing, with any luck, right side up. Many however, are not lucky, and find themselves hanging from their seats, should they have had the foresight to be wearing a seatbelt at the time. These accidents cause the body to be jerked around and slam against the interior of the car, with the momentum of the car causing intense amounts of force to be put on the unfortunate driver.
If you are a victim of a Fort Lauderdale rollover car accident, we urge you contact the Fort Lauderdale rollover injury lawyers at Wolfson & Leon. Call now at (954) 530-3918 to get a free consultation and over 55 years of service with personal injury and car accidents in Florida on your side.
Vehicles Susceptible to Rollovers
The National Highway Traffic and Safety Administration (NHTSA) considers rollover car accidents to be one of the more serious car accident types, that result in many more serious injuries and even fatalities than any other kind of accidents. About 35% of all fatal accidents in the US are a direct result of a rollover accident, even while being only 2% of total accidents that take place. There can be many reasons as to why rollover car accidents take place, but one of the most likely factors is the design of the car. Narrower, taller cars can be much more likely to rollover than any other type of cars and must seriously be considered and contemplated. The cars that are the most likely candidates for rollover accidents are:
Vans
Pickup Trucks
SUVs
Trucks, Vans and SUVs that are overloaded
Any vehicle with a center of gravity higher than normal.
Speed is another factor that can greatly influence whether a car will roll over. Generally, the faster a car barrels towards another (typically faster than 50 miles per hour or higher) the more likely the car will rollover. Many other factors can come into play, like level of driver intoxication, how distracted one might be before an accident, and driver inexperience with high speed maneuvers. While you may have never seen an actual rollover, the fact of the matter is rollover accidents cause some of the most devastating and lifelong injuries that one can have the misfortune of experiencing in a car crash. These types of car crashes can leave people crippled, in pain, and force to rehabilitate for years after the crash is over, costing them both financially as well as emotionally and physically. There are, however, many ways that the law protects victims of such accidents and having a Fort Lauderdale personal injury attorney there to help you can mean the difference between having all the help you need and no help at all. A Fort Lauderdale car accident attorney can assist you in getting the damages you deserve including lost wages, pain, and emotional as well as physical suffering.
How to File a Rollover Accident Injury Claim in Fort Lauderdale
When you choose to file an injury claim, one of the things that must be determined by your Fort Lauderdale personal injury attorney is liability. They will have experts look at all the aspects of the accident and help determine if the injury was a result of a driver's negligence or due to some other liable third party. If this is the case, the claim can move forward, and your Fort Lauderdale rollover car accident attorney will review any and all documents, including medical reports, police reports, and eye-witness reports to help build a strong case. Our personal injury lawyers at Wolfson & Leon will help you at every step, from the first call all the way to settlement or jury verdict or appeal.
Wolfson & Leon has been serving the communities of Florida since 1963 with offices in Fort Lauderdale, Miami, Fort Myers and West Palm Beach, They are committed to customer service and will make sure your case is treated with the professionalism and dignity it deserves. Call now at (954) 530-3918 for you free consultation.