Road Rage Accident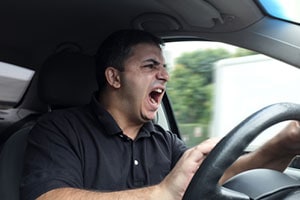 Emotions can run high when on the road. For all intents and purposes, the very vehicle that is taking you to and from work is also an effective death trap that can cause you to lose more than just a limb should you handle it incorrectly. Even worse, you are just as much at the mercy of the drivers around you and the decisions they choose to make while sharing the road with you. This can make any reasonable person's heart rate spike and can cause many of us to be blinded by anger. Anger is a natural response to seeing something you dislike, like a driver cutting you off, or needlessly large amounts of traffic.
It is important, in these moments to stay calm. However, if you or a loved one you know has gotten into an accident as a result of their, or someone else's road rage, it is extremely important that you contact the best Fort Lauderdale car accident lawyer you can find right away to make sure you know the options you have after your injuries have been dealt with. The Fort Lauderdale car accident attorneys at the Wolfson Law Firm can provide you with a free consultation at (954) 289-5954. It is completely confidential and can put your mind at ease to know what your next step is.
Road Rage Car Crashes in Fort Lauderdale
We consider road rage to be the use of aggressive behavior by drivers. This can mean that they use their vehicle as a weapon to antagonize or attack another driver, or it can mean that they step out of their car to physically and verbally assault you or your car. Road rage can also manifest itself while driving, and can include:
Purposefully ramming another vehicle
Purposefully pinning a vehicle to prevent it from moving (This can lead to personal confrontation between drivers)
Illegally running another driver off the road
Or at its worst, using a vehicle to injure or even kill another person, be it another driver, a motorcyclist, or a pedestrian.
Many of these road rage events are serious and can cause intense amounts of personal impact and pain in Fort Lauderdale as well as all over the United states. Because of this, insurance companies take the act of road rage very seriously. Should an insurance company determine that the person they are insuring purposefully used their vehicle to hurt someone, they can deny coverage for an intentional act. Public policy and Florida law generally do not allow an individual to insure themselves for intentional and/or illegal acts. Battery, assault and murder would likely not be covered by any insurance company, and a person who is suspected to have done any of these things with their vehicle will likely be sent what is called a Reservation of Rights, which informs the person that the insurance company reserves the right to decline coverage. This can mean that the victim is left without insurance coverage to pursue.
Should a criminal charge be filed against a Fort Lauderdale road rage driver, collection can again, be extremely difficult, especially if the driver has no assets that can be claimed for restitution. While there are ways to protect yourself against drivers without insurance, like with uninsured motorist benefit coverage, they generally do not cover intentional acts, like road rage.
Fort Lauderdale Road Rage Personal Injury Lawyers
Should you be unfortunate enough to be injured in a Fort Lauderdale road rage driving accident, the Fort Lauderdale car accident lawyers at the Wolfson Law Firm can help your family and you. With over 55 years of client service, our bilingual car accident attorneys at the Wolfson Law Firm can serve you and bring you the peace of mind you deserve. Give us a call at (954) 289-5954 to get your free and confidential consultation.
The Fort Lauderdale personal injury and car accident attorneys of the Wolfson Law Firm serve communities throughout South Florida, including Davie, Wilton Manors, South Beach, Hollywood, Pembroke Pines, Miami Beach, Edgewater, South Miami, Coconut Grove, Coral Gables, Homestead, North Miami Beach, Sunny Isles, Hallandale, Surfside and Miami Shores.