Failure to Yield Car Accidents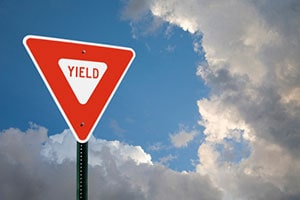 A yield sign is a very common thing to see while driving around Fort Lauderdale. Many roundabouts have them to help distinguish who has right of way in such intersections. This can mean other drivers, cyclists, or even pedestrians as they're moving through the intersection. Yielding also plays a large role within car accidents, specifically when someone forgets or fails to yield to oncoming traffic, or any other possible people they may share the road with. Knowing what to do after a failure to yield car accident in Fort Lauderdale is important, and we recommend you consult the best Fort Lauderdale car accident lawyer you can call as quickly as you can.
When Florida law comes into play, there are many circumstances that are covered in relation to yielding to traffic. Public roadways that don't have traffic control devices, for example, must allow oncoming traffic to pass first before being entered. Drivers also need to yield to busses, as well as to the oncoming traffic of whatever intersection they are turning left into. Workers and construction sites are another thing that drivers must yield to while driving. Lastly, yielding must be done at yield signs, requiring the driver to slow down or stop if necessary, for oncoming traffic. Any of these areas can be a hotbed for accidents and personal injury. When something like this happens, a Fort Lauderdale personal injury lawyer will be able to help you understand the steps you need to take to get the justice you deserve. We recommend you call Wolfson & Leon at (954) 530-3918 for your free consultation. With over 55 years of client representation, their Fort Lauderdale car accident attorneys will be able to provide the answers and the help that you need.
Types of Failure to Yield Car Accidents in Fort Lauderdale
Fort Lauderdale personal injury lawyers may be able to help you with many different types of accidents as a result of failure to yield. These can include:
Failing to yield for bicyclists
Failing to yield to a pedestrian
Failing to yield for merging vehicles
Failing to yield for a motorcyclist
Failing to yield when turning into a parking lot
Failing to yield for an emergency vehicle
The types of injuries that can result thanks to these types of accidents can include:
Whiplash
Lower Back injuries, such as herniated disc or worse
Bruising and lacerations from being pushed against your seatbelt
Injuries to the face, jaw and head
Wrist, arm and shoulder injuries
Fort Lauderdale Failure to Yield Car Accident Attorneys
The Fort Lauderdale failure to yield car accident lawyers at Wolfson & Leon represent car accident and personal injury victims from all walks of life and have served the diverse communities in Florida since 1963. We handle every step of the process; from the moment you contact us through jury verdict and award or settlement. Once you call for your free consultation, you can move forward with making sure you get the justice you deserve.
Once evidence is gathered, it can be prepared to be presented as a settlement demand to the insurance company of the responsible driver. Our Fort Lauderdale personal injury attorneys will do their utmost to make sure you case is presented in a professional and compelling manner. Should the company not reciprocate the demands given to them, our Fort Lauderdale car accident lawyers will not hesitate to bring your claim to the next step in the process to make sure you are fairly reciprocated for your injuries and damages. This generally means the filing of a lawsuit on your behalf.
The personal injury lawyers in Fort Lauderdale of Wolfson & Leon are ready to represent you should a lawsuit be necessary. Jonah Wolfson is a bilingual car accident lawyer in Fort Lauderdale, that has had years of client service and support in cases involving personal injury claims, car accidents and slip and fall accidents. All you need to do is call us at (954) 530-3918 and allow our Fort Lauderdale personal injury legal team to serve you.