Crime Victim Compensation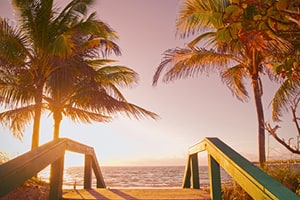 The Sunrise crime victim compensation lawyers at Wolfson & Leon help those who are injured due to criminal assaults and action in Sunrise. Since 1963, we have helped injured victims get the justice and the compensation they deserved. Contact us for free consultations at (954) 530-3918 and if you are entitled to compensation, let us help you get it in the most efficient possible way.
Sunrise
Developer Norman Johnson founded Sunrise in 1960 when it had only a few hundreds of residents. The city saw its real growth during the seventies when the Broward County officials decided to push west. The city attracted property buyers from other parts of the US with upside-down houses and by changing the previously-held name Sunset to Sunrise, in favor of retirees who didn't prefer a "final" name like Sunset. Nowadays this Broward County city has almost 100,000 residents. Sunrise hosts many festivals throughout the year, including the Earth Day Festival, Harvest Festival, and the Cultural Festival, among others. The city also hosts the Sawgrass Mills Mall, the largest outlet and value retail shopping mall in the United States, with more than 350 stores including Nike, Gap, Ralph, Lauren, and Tommy Hilfiger.
Sunrise Crime Victims
The amenities that Sunrise has to offer helps to generate plenty of tourism and visitors from all different parts of South Florida. Sunrise can have its good parts and bad parts of town, just as any city would. As most larger cities deal with crime, unfortunately Sunrise is no different. There are a variety of crimes that you could fall victim to at any time. If you or your loved ones happen to be injured in a criminal action in Sunrise, we can help you as:
Sunrise rape and other sexual assault victim rights lawyer
Sunrise battery victim compensation lawyer
Child molestation victim compensation lawyer in Sunrise
Crime victim lawyer for aggravated assault caused by inadequate security measures in Sunrise
Sunrise DUI crimes victim compensation attorney
Crime victim lawyer for murder victim survivors in Sunrise
Sunrise crime victim lawyer for violent crime injuries and deaths at apartments, affordable housing, hotels, motels and other commercial premises
Crime victim compensation attorney for robbery victims in Sunrise injured due to negligent security
Sunrise Crime Victim Compensation Options
In general, there are three ways to get compensated as a crime victim or murder survivor in Florida. The first one is to wait for the criminal procedure to end. If the assailant is proven guilty and convicted, then he will likely be held liable to pay for your injuries. However, criminals rarely pay for any damages. Most often they don't have the money to pay you, and sometimes they even don't get caught by the law enforcement authorities.
In such scenario, you have two other options. If the crime occurred at premises under control of a third party or person, then they could be liable. Third persons could be any commercial enterprise that invites visitors to their premises. They owe them a duty of care at those premises, which means they should protect them from foreseeable crimes by taking all the necessary and reasonable measures to prevent the crimes. When they breach this duty due to a negligent failure or breach of their duty, it allows criminals commit the crimes and cause you injuries. That's why they can be held legally responsible for paying you for injury-related harms and losses.
The final option is to apply for compensation by the Florida Bureau for Victim Compensation. They will ask you to prove that you've been injured due to crime accident in Florida. It requires a decent amount of paperwork, but once you prove it, you can recover some of your economic losses such as medical bills and/or lost wages.
Our Sunrise crime victim compensation attorneys at Wolfson & Leon are ready, willing and able to help you. Call us at (954) 530-3918 for your free consultation. You won't pay any fees until we recover for you.