Crime Victim Compensation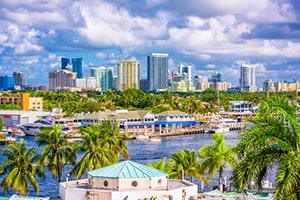 When a crime is committed against you, there will be many questions after the fact and plenty of healing to go through. Crime victims will feel the physical effects, but it is the psychological effects that can have a longer lasting impact. When injured in Fort Lauderdale as a crime victim, our Fort Lauderdale personal injury lawyers at Wolfson & Leon can help you determine if you are entitled to damages recovery and how to recover. Call us at (954) 530-3918 for your free consultation today.
Fort Lauderdale
Fort Lauderdale is one of the nicest cities in Florida. It is well known for its beaches, boating canals, and the Strip - a wonderful oceanside promenade with plenty of bars, restaurants, and nightclubs. It is a popular tourist destination located 28 miles north of Miami. Some of the Fort Lauderdale neighboring cities include Wilton Manors, Hollywood (FL), Dania Beach, Pompano Beach, and Hollywood. Fort Lauderdale is the seat of the Broward County and a home to around 180,000 inhabitants.
Fort Lauderdale Crime Victims
If you were seriously injured in a criminal incident or accident in Fort Lauderdale, you need the services of a:
Crime victim lawyer for murder victim survivors in Fort Lauderdale
Fort Lauderdale child molestation victim compensation attorney
Rape and sexual assault victim rights lawyer in Fort Lauderdale
Fort Lauderdale battery victim compensation attorney
Fort Lauderdale crime victim compensation attorney for robbery victims injured due to negligent security
Crime victim lawyer for aggravated assault in Fort Lauderdale caused by inadequate security measures
Fort Lauderdale DUI crimes victim compensation attorney
Fort Lauderdale crime victim lawyer for violent crime injuries and deaths at apartments, affordable housing, hotels, motels and other commercial premises
Of course, this list is not exhaustive. If you happen to be injured in another type of crime, you might still be entitled to compensation, so don't hesitate to call our Miami personal injury lawyers for assistance.
Financial Recovery Option for Crime Victims in Fort Lauderdale
Florida laws set crime victims and murder survivors on three-road crossroad to damages recovery. Your lawyer will help you figure out which one is the best for you depending on the circumstances of your case.
One of the possibilities is to recover from the criminal offender, but in practice, they hardly pay damages. It seems easy to recover from someone who has been proven responsible for your damages, but offenders are often too broke to pay for your harms and losses. Another downside is the fact that the offender sometimes absconds, and even when he is caught, the criminal proceedings might take too long.
In such scenario, you should turn to other options for recovery. If the crime has occurred on premises under control of third persons, they might be liable as well. These third persons such as banks, retail shops, affordable housing complexes, gas stations, and bars. They owe visitors a duty of care, which means they need to take all the reasonable measures to prevent foreseeable crimes on their premises. When they fail in doing so, such as instances of negligent security, and it leads to the criminal accident that caused your injuries, you can claim damages recovery from them as well.
The final option leads you to the Florida Bureau of Victim Compensation. They compensate the crime victims who have suffered due to a crime that occurred in Florida. If you can prove that your case qualifies for compensation under requirements set by the laws, you may be able to recover some of your economic losses.
It might sound easy, but in the 50 plus years of experience of Wolfson & Leon, our Fort Lauderdale crime victim compensation lawyers have learned that no one is willing to pay for damages easily. That's why you need aggressive and professional legal support. We can help with free consultations when you call us at (954) 530-3918. We don't ask for attorney fees unless we recover for you. At the very least, get the answers you need so you can get the justice you deserve.