Hollywood Beach Hotel Accident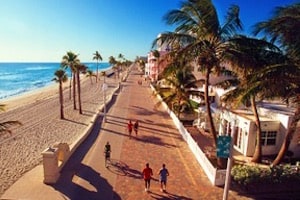 If you were injured at any hotel on Hollywood Beach, then you should speak with a Hollywood Beach Hotel accident attorney as soon as possible. Whether you are a resident of Hollywood Florida or just visiting Hollywood Beach on vacation or business, it is extremely important that you understand and protect your legal rights following any type of accident at a Hollywood Beach Hotel.
The Hollywood Beach accident lawyers at Wolfson & Leon can help you. All you have to do is call (954) 530-3918 for your free consultation and our Hollywood personal injury legal team can answer any questions that you might have.
Hollywood Beach Hotels and Resorts
Hollywood Beach is centered around what is called the Broadwalk which extends in a north/south direction along the beach. On the Broadwalk one will find restaurants, bars, gift shops and condos. Many consider the Hollywood Beach to be one of the best in all of South Florida.
Every year one of the main groups who visit and spend time at Hollywood Beach are French Canadians. Many of them stay in the individually owned mom-and-pop type hotels south of Sheridan Street and North of Hollywood Boulevard. The main tourist season on Hollywood Beach extends from Thanksgiving through Easter.
In addition to the local small hotels, there are two major resort destinations in Hollywood Beach now. One is the Westin Hollywood Diplomat Hotel and the other is Margaritaville Hollywood Beach Resort. Both of these substantial and significant resorts are driving economic factors for the Hollywood Beach.
Hollywood Beach Hotel Accident Attorney
At Wolfson & Leon, our Hollywood hotel accident lawyers have helped the people of South Florida and the tourists who visit there since 1963. We help clients make full, fair, and complete recovery from slip and fall accidents, trip and fall accidents, negligent security claims, wrongful death cases and serious injury litigation.
Our Hollywood Beach personal injury attorneys can help you if you are injured due to the negligence of a hotel, corporation or other individual including:
Diplomat Hotel slip and fall accident in Hollywood
Lyft car accidents from Hollywood Beach Resorts and Hotels
Margaritaville slip and fall accident in Hollywood
Hollywood Beach Hotel trip and fall accident
Hollywood Westin Diplomat Hotel accident and injury
Margaritaville trip and fall accident in Hollywood Beach
Parking lot or parking garage accident at the Hollywood Diplomat Hotel
Wrongful Death accident at Margaritaville Hollywood Beach Resort
Negligent security at Hollywood Beach Hotel
Car accident at Margaritaville Beach Resort
Margaritaville food poisoning accident
Pool injuries and wrongful death from accidents at Diplomat Hotel in Hollywood Beach
Food poisoning at the Diplomat Hotel on Hollywood Beach
Slippery Surface slip and fall accident at Hollywood Beach Hotel
Inadequate lighting trip or slip and fall at Hollywood Beach Hotel
Hollywood Beach Hotel Accident Lawyer and Wrongful Death Attorney
At Wolfson & Leon, our Hollywood Beach personal injury lawyers are standing by and ready to answer your questions after your Hollywood Beach hotel accident. Once we are on the case, we will conduct a thorough investigation into all aspects of your accident. This will enable us to identify all potential defendants and responsible parties.
Once we have ascertained what exactly happened in your accident, we will place all potentially responsible parties on notice of our representation of you for your personal injury claim arising out of your Hollywood Beach Hotel accident. We will deal with the insurance companies as well as any other details of your case so that you can concentrate on making the best recovery possible from your injuries. We will retain whatever personal injury experts are necessary in order to present your case.
Our Hollywood Beach Hotel accident lawyers represent personal injury victims on a contingency fee basis which simply means that we will not collect any fees unless we make a recovery for you. We are available 24 seven for your questions and we welcome you to make an appointment at our offices in Miami, Fort Lauderdale or West Palm Beach. If you would like us to come to you at your home, hotel room, emergency room, hospital room or anywhere else that might be convenient, just let us know and we will make the necessary arrangements. The only thing that you have to do is call us at (954) 530-3918 and let us get to work for you.
The Hollywood accident and injury lawyers at Wolfson & Leon serve not only Hollywood beach community but also the people in the surrounding communities as well as any of our regular visitors from Canada, New York, New Jersey, California or any other of our neighbors to the north.
We are proud to assist the good people of Hollywood Beach as well as the folks of Dania, Hallandale, Hollywood, Pembroke Park, Miramar, Pembroke Pines, Cooper City, Davie, Weston, Aventura, Miami Beach, Fort Lauderdale and Hialeah.