Traumatic Brain Injury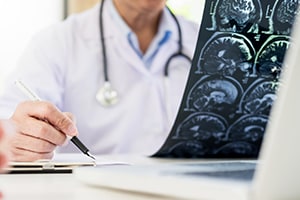 One of the most common causes of traumatic brain injury accidents can happen while we are going about our everyday lives. Slip or trip and fall accidents result in over 8 million emergency room visits in the U.S. each year. They can happen in the places we visit frequently such as grocery stores, parking lots, shopping malls, sidewalks, and restaurants. Spilled liquids that aren't cleaned up, poorly lit walkways, uneven pavement and flooring, missing handrails, or debris left on the ground can cause people to slip or trip and fall.
Slip or trip and fall injuries may appear to be minor when they happen. When a victim hits their head as they fall, they may be injured and not know it. In some cases, the rapid back and forth movement can cause a brain injury, even if your head didn't hit a hard surface. If left untreated, minor injury can become a serious health issue. Head injuries are not always apparent at the time of an accident. It can take a few hours, day, or weeks to feel the effect of head trauma. Over time, you may have a hard time remembering things. You may notice that you can't think clearly or move as easily as you once could. Others may comment about changes in your personality or behavior. These may all be symptoms of a traumatic brain injury. If you have been injured in a slip and fall accident, seek medical attention as soon as possible – even if you think everything is ok.
If you are the victim of a slip and fall or trip and fall accident and are suffering from a brain injury, you should speak with Weston traumatic brain injury lawyer. If you aren't sure if you have a case or have questions about an accident that you or a loved one was injured in, contact the Fort Lauderdale personal injury attorneys at Wolfson & Leon today at (954) 530-3918 for a free consultation.
What Type of Slip and Fall Accidents Cause Brain Injuries?
When property owners don't take reasonable steps to make sure that their premises are safe for visitors, this can cause people to get hurt. Traumatic brain injuries can happen from the most common occurrences, such as;
Potholes or broken pavement in parking lots may cause a person to trip and fall, hitting their head on the hard ground or a curb
Broken bottles that spill liquid on the floor can lead to a slip and fall accident resulting in injury if the head hits a shelf, countertop, or the floor
Floor mats in entryways that aren't secure, leading to a slip and fall head injury
Stores that use different types and heights of flooring can cause trip and fall or slip and fall head injuries
Shelving or cabinets that are not secure can tip over and hit those below
Overstocked shelves that are high up can result in merchandise or shelving parts falling on a person's head
Rain can cause entryways to be slippery, causing a slip and fall accident
Overhead displays or signs that aren't properly secured can fall on people shopping
In some cases, symptoms of traumatic brain injuries may appear to be minor, such as headaches, nausea, or vomiting. Other indicators of a brain injury include mood or personality changes. These symptoms may not occur for a few hours, days, or weeks after the accident. Injured victims that experience these symptoms should seek medical attention to determine if they have a brain injury.
Fort Lauderdale Traumatic Brain Injury Law Firm Helping Weston Victims
The Weston brain injury attorneys at Wolfson & Leon help victims who have head injuries that resulted from a slip and fall accident. We help victims who have been injured in many ways including;
Weston accident lawyer for grocery store slip and fall accident resulting in a head injury
Attorney for brain injury resulting from a criminal act in Weston
Restaurant wet floor slip and fall head trauma accident injury lawyer in Weston
Lawyer for severe head injury resulting from a car crash in Weston
Parking lot trip and fall traumatic brain injury lawyer in Weston
Concussion injury from a supermarket slip and fall accident attorney in Weston
Weston attorney for severe head trauma from a construction site accident
Lawyer for victim injured in a wrong-way car accident causing severe brain trauma in Weston
Weston Brain Injury Lawyers
Since 1963, the personal injury lawyers at Wolfson & Leon have defended the rights of head trauma accident victims. We help injured victims and their families who have suffered from a brain injury as the result of a slip or trip and fall accident. Our Fort Lauderdale brain injury lawyers defend your rights against big insurance companies or in court to help you receive the compensation you need to recover from your injuries.
Wolfson & Leon represents clients throughout South Florida. Our offices are located in Miami, Fort Lauderdale, West Palm Beach, and Fort Myers. If you have been in an accident and are suffering from a traumatic brain injury, call the Weston brain injury lawyers today. For an initial consultation, call (954) 530-3918.