Car Accident Victims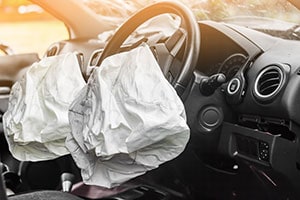 It is a fact of our society that having motorized vehicles can lead to, and even precipitate accidents. We are not infallible, especially when it comes to handling the heavy box of glass, steel, and plastic that is carrying us to and from work. Cars are convenient, but ultimately, the use of them will lead to some accident. It does not mean that you cannot prepare for this eventuality. Having someone on hand that you can call, get in contact, and plan your next move with is essential to ensuring that you get the help you need. That is where we come in.
Here at Wolfson & Leon we've been hard at work helping the good people of Weston and many other Broward communities for decades, and we're more than prepared to do the same for you. Our 55 years of tireless service can serve as a testament to our dedication to ensuring that the regular drivers of the state of Florida get the protection from the negligence and irresponsibility of others. If you've found yourself in an accident in the area of Weston, and need help, then give a call to the legal firm that's proven to help as many people as possible. Speaking to an attorney is easy, provide the firm at a call at (954) 530-3918 to talk to someone right away, they'll walk you through your accident and determine what the best next steps are towards getting you the compensation you need and deserve.
Weston Florida
Topping the list as Florida's best place to live category in CNN's Money magazine, Weston is undoubtedly a picturesque slice of pure Americana. Established in 1996, this Broward community has seen prestige as both the top earner in Florida's Broward Community, but also as one of the most idyllic places to live in the Floridian peninsula. With warm and dry winters, the area is a prime spot for those looking to get away from the biting winters of the north, and optimal vacation real estate for those seeking a warm getaway from it all. For suburban families, it provides a wide variety of schools, as well as several parks that ensures Weston's picket fence qualities are put out for everyone to see. Some of these parks include:
Windmill Ranch Park
Weston Reginal Park
Vista Park
Weston Town Center Park
Tequesta Trace Park
Peace Mound Park
Weston Library Park
Indian Trace Park
Heron Park
Gator Run Park
Emerald Estates Park
Eagle Point Park
Country Isles Park
Indeed, a beautiful place to live, as their population of over sixty thousand residents will surely tell you. Of course, sixty thousand residents are a lot of people, a tidal wave of humanity that is all looking to get from one point to another every day. While many of Florida's roadways have been optimized to ensure everyone gets where they need to go safely, the grim reality is that when it comes to humans, accidents will eventually happen.
Fort Lauderdale Car Accident Lawyers Helping Weston Victims
When this happens, take the time to get in contact with those that have been helping the people of Weston for over the decades. As discussed, it is a beautiful place to live. That is why looking for a lawyer in an area that you know is important. Fort Lauderdale offers you a myriad of choices, but more importantly, that's where you'll find Wolfson & Leon. Easy to reach and easy to meet, the lawyers at Wolfson & Leon will help you and your loved one's sort through the mess that you've found yourself in and get right to the heart of the problem. You require compensation, you want to go back to your life, and we can help you do it.
Jonah Wolfson and his bi-lingual team of Fort Lauderdale car accident lawyers helping Weston victims are more than up to the task. They'll be able to speak to you over the phone or in person and can ensure that you're given all the information you need right away. Give them a call today at (954) 530-3918 and see to it that you stop suffering in silence.