Slip and Fall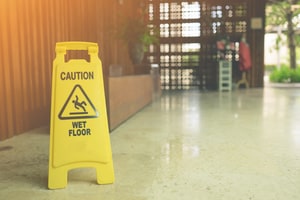 Taking a slip and fall can be humorous, sometimes it can even look like something out of a slapstick comedy. Fortunately, those in the premises liability business know that it is absolutely no laughing matter. When a customer is found on their back, and an employee caused the accident, the company will do everything in its power to ensure that no fault or claim can be placed at their feet, even when that is precisely the case.
They'll fight tooth and nail to ensure that they're covered from having to pay what should be the fair amount of money you need for the damages that you've suffered and the pain that you are currently feeling. They'll hire out, or have on call, a team of lawyers ready to scour through as much information about you, your personal life, your loved ones, and past medical history, and all sorts of other things to try and pin the blame of the accident square on your shoulders. This is both unfair and cruel, especially when that accident has left you unable to provide for yourself and your loved ones.
When this is the case, it is crucial to know where to turn. That is where Wolfson & Leon comes in, as their time working with both wrongful death and personal injury law helps them navigate the legal hurdles that you're facing with grace and precision. They've been in service since 1963, that's 55 years of knowledge and service that they've got to help you figure out just how you'll be tackling this case, and just what you need to do to get the compensation you need and deserve.
They'll work with experts to review the scene, get you to trusted doctors who'll examine you fairly, and won't just let you off with some painkillers as some doctors who work for the companies do. Finally, they'll tackle your case as if it is going to trial, which they believe puts you in the firm position to negotiate a settlement that is satisfactory to you and your team. Should the other party refuse to comply, then they'll take the case to court and prove to a jury of your peers and the judge that you deserve justice. No one should tackle the pain and humiliation an accident can inflict on someone alone, call today at 954-289-5954 and speak to an attorney right away.
Tamarac Florida
Built and established on the same year that Wolfson & Leon opened its doors to the public, Tamarac Florida is a beautiful town with an active adult community. Named after the Tamarac Country Club in Oakland Park, it has kept up its founders view of a bedroom community. Building homes and allowing parts of its commercial districts to be annexed by Fort Lauderdale, all in the effort to preserve the homey atmosphere of a genuinely suburban-like town. Its current population according to the latest census sits them at just above 60 thousand inhabitants. They're slowly growing, as new families bid to join the bedroom community in comfortable living and affordable housing. Still, any of these sleepy communities are always facing the types of incidents that many in stores and other public areas face, that is slip and fall accidents. It is essential to know who to turn to when these types of accidents happen, mainly if you've found yourself experiencing it in places such as:
Streets outside of public property
Sidewalks outside of public or private property
The parking lot of public or private property
National or State parks
Public or private libraries
Public or private schools
Public or private playgrounds
Government office buildings
Court Buildings
Fort Lauderdale Slip and Fall Lawyers Helping Tamarac victims
Jonah Wolfson is the managing attorney at the Firm, he and his bilingual team of Fort Lauderdale slip and fall lawyers helping Tamarac victims have been hard at work with many cases just like yours. Take the time you need to contact them and speak to them in a free consultation. Their advice will help you navigate your predicament and ensure that you're no longer plagued by worry. Call today at 954-289-5954.