Car Crash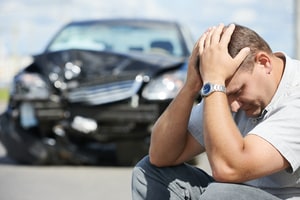 Tamarac has some of the busiest roads in Broward County running through the city. Commercial Boulevard and Oakland Park Boulevard are highly travelled streets that lead to the Sawgrass Expressway when travelling west. Tamarac residents also use these main streets to travel east to reach other main highways, including I-95 and the Turnpike. University Drive runs north-south through Tamarac and is also a heavily traveled road that is used to reach I-595.
As you drive down these roads, you'll experience several large intersections and multiple lanes of traffic. Since they are located within the city, there are multiple housing developments, apartment complexes, strip malls, schools, restaurants, and other stores located on either side of the road. In addition, pedestrians attempting to cross these busy roads to catch the bus often have to walk a long distance across several traffic lanes to reach the stop.
With the high volume of traffic, numerous intersections, as well as cars turning on and off of these roads, there is a good chance that a car accident will occur. Cars travelling at high speeds can cause serious accidents that result in severe, even fatal, injuries. While we often think to just call our insurance company after an accident, there can be many complexities that would require a call to a personal injury lawyer. Attempting to settle a serious car accident without legal representation may result in your family not receiving enough compensation to pay for medical bills, lost wages, future care, continuing rehabilitation, or other costs associated with your recovery. If you or someone you love has been injured in a car accident, call the Tamarac automobile accident lawyers at Wolfson & Leon. They will take the time to listen to you, review your case, and advise you of what options are available to pay for medical bills and compensate you for lost wages. For a no-cost evaluation of your case, call Wolfson & Leon at (954) 530-3918 today.
Fort Lauderdale Car Accident Attorneys for Tamarac Victims
There are 64,262 residents living in Tamarac. Like many other cities in South Florida, it is a racially diverse with 39.3% of the population being white, 27.5% are Hispanic, and 27.5% are African American. With a median age of 47.4 years old, the city offers a combination of family-friendly residential neighborhoods and retirement communities. Tamarac has a poverty rate of 11.1%, which is less than the national average poverty rate of 13.4%. The median household income is $45,474 across approximately 26,700 households within the city. The median property value is $140,100 which is almost 6% higher than the median property value for the prior year.
Tamarac Car Accident Lawyer
Since 1963, the Fort Lauderdale personal injury attorneys at Wolfson & Leon have represented car accident injury victims in many ways, including;
Tamarac attorney for serious car crash injuries
Wrongful death car crash accident attorney in Tamarac
Shopping center parking lot automobile accident leading to injury Fort Lauderdale attorney
Commercial Boulevard serious car crash injury attorney in Tamarac
Victim injured in a wrong-way car accident in Tamarac
Attorney for head-on collision car crash injury in Fort Lauderdale
Distracted driver car accident injury Fort Lauderdale attorney
Failure to yield automobile crash injury lawyer in Tamarac
Fort Lauderdale lawyer texting and driving injury car accident
Sidewalk car crash pedestrian injury Tamarac attorney
Lawyer for pedestrian injured in crosswalk car crash in Fort Lauderdale
University Drive fatal car accident attorney in Tamarac
Tamarac attorney for car crash accident injury resulting from running a stop sign
Cyclist car accident causing a serious injury lawyer in Tamarac
Tamarac large construction truck injury accident lawyer
Lawyer for rear-end car crash injury in Fort Lauderdale
Tamarac law firm for automobile crash injury resulting from impaired driver
Oakland Park Boulevard pedestrian crosswalk accident injury lawyer in Tamarac
Attorney for wrong-way highway collision injury in Fort Lauderdale
Tamarac failure to yield car crash injury lawyer
Intoxicated driver car accident attorney in Fort Lauderdale
Fort Lauderdale parking lot accident injury lawyer
Fort Lauderdale Car Crash Injury Law Firm
For over 55 years, the Fort Lauderdale automobile accident attorneys at Wolfson & Leon have represented car accident victims who have been injured through no fault of their own. Serving clients across South Florida, they have four convenient office locations in Miami, Fort Lauderdale, West Palm Beach and Fort Myers. If you or someone you love has been injured in a Tamarac car crash, contact the personal injury attorneys at Wolfson & Leon. Call (954) 530-3918 today for a free, no obligation consultation.