Slip and Fall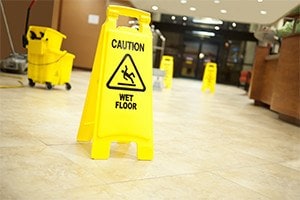 Sunrise is aptly named, a city of sunshine located in the Sunshine State of the United States of America. There you can find all sorts of attractions for those visiting from international waters and other countries, as well as those residents to the beautiful city itself. One of the biggest attractions is the largest mall in all of Florida named the Sawgrass Mills Mall.
Millions come to enjoy a shopping experience like no other, with restaurants, stores, and services tailored specifically for the shopper to enjoy and take delight. Of course, with as much foot traffic that they see, it is no surprise that the accident count in stores such as these, located within the mall, is high. Life in Sawgrass Mills Mall is hectic and chaotic, faces blur past for employees, and they barely have time to establish a repertoire before they're gone. Of course, well-experienced employees know that they need to be up to par with the standards of the mall, to clean and ensure an accident cannot occur in their workplace. Not everyone is built like veteran employees, and when an accident happens, it is usually due to their negligence.
When such an event occurs, and you've found yourself the victim of another's bad judgment and lack of skill, do your research and get in contact with a Lawyer. Be sure that they will help you get the compensation you deserve. Wolfson & Leon has been hard at work since 1963, supporting the good people of Fort Lauderdale and beyond. They're more than ready to help those located only a few short miles away in Sunrise Florida. With a quick phone call, you can contact them and speak to a lawyer right away. With them, on the phone, they can quickly use their knowledge to see just how your case may progress, and what steps you should take to help work towards you a recovery. Getting into an accident is no joke, and you should not treat it like one. Take the time you need and get the information you deserve by speaking to someone with the knowledge to help you. Call Wolfson & Leon in Fort Lauderdale at (954) 530-3918 and see to it that you do not suffer silently.
Sunrise Florida
Getting into an accident in Sunrise, Florida, is just as devastating as getting into an accident in any other location. You can suffer injuries that leave you with only a small amount of pain for a few weeks, to devastating fractures that leave you paralyzed for life. Unfortunately, like most things in life, this is dependent on luck and circumstance. Of course, it is essential to prepare for what exactly can happen. Wolfson & Leon provides you with the information you need to be ready. Some of the injuries that you could suffer from include:
Back sprains and strains
Torn skin and tendons
Bulging discs
Bruising and laceration
Head trauma
Head injuries including cuts, bruising, swelling, and mutilation
Neck wounds such as herniated discs
Neck strains or sprains
Whiplash
Spinal cord compression
Paralysis
Scars that require plastic surgery to deal with
All of this and more can be the result of your injury. Taking the time to ensure that your doctor gives you an exact diagnosis can go a long way to ensuring that your case is worked effectively. With so much going on, it may seem overwhelming, and we understand this. Take as much time as you need to know what has happened to you is both necessary and vital.
Fort Lauderdale Slip and Fall Lawyer for Sunrise Victims
Jonah Wolfson and his bilingual Fort Lauderdale slip and fall lawyers for Sunrise victims are ready to help you. They're only a call away and can get you the information you need as quickly as you need it. Do not leave your recovery to the whims of a corporation that is only looking out for itself. Get a team that will do its due diligence in getting you the compensation you need. Call right away at (954) 530-3918 to speak to a lawyer today.