Slip and Fall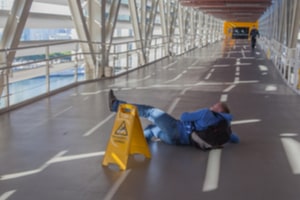 Beautiful Pompano Beach, much like Fort Lauderdale and Miami, sees much in the way of tourists and visitors. After all, who wouldn't like to come down to the beautiful beaches and restaurants to take in the beautiful weather and meet the great people who call that city their home? With this much traffic, however, comes the chance for an accident. Not car accidents mind you, but accidents that happen due to the negligence of establishments too busy trying to make money. They want to make a quick buck rather than ensure your safety.
When entering an establishment, regardless of it is private or public, a promise is given to you. This promise is one of safety, security, and understanding, should you find yourself in an accident. Whatever the cause, that promise has been broken, and you need to seek legal counsel. This broken promise is what we in the business call "Premises Liability," which is just a fancy way of saying "shirked responsibility." The responsibility that is ignored by the owner of the establishment to ensure that your experience is as safe and as enjoyable as the other thousands that walk into their establishments during operating hours. Now, of course, accidents happen, and your first instinct may be to try and sympathize with those that own the place that you've fallen in. We implore you not to do this, the main reason being that what you're sympathizing with is a company, not a human being. What they seek to do is get as much money out of you walking into their stores without having to pay a dime. Should you find yourself in an accident in their stores, you can be sure that they'll avoid responsibility faster than you can say "please help me."
When this happens, it's vital to go with years of service in premises liability law, that is where we come in. Wolfson & Leon has been hard at work since 1963 in getting their clients the deserved compensation towards recovering from the terrible accidents they've suffered at the hands of another person's negligence. That's 55 years of service to the people of Pompano Beach, and beyond that, they're more than willing to pass to you so that you're taken care of. They're located in Fort Lauderdale, where many lawyers can be found in South Florida, and they're a phone call away. A free consultation is yours if you call (954) 530-3918 right away and see to it that you get the help you need.
Pompano Beach Florida
Attractions in Pompano Beach range from the gorgeous beaches to the fanciful restaurants and attractions. One only has to look up some of the places to go in the city, and they'll find a readymade list for them, including some areas such as:
Pompano Beach
Isle Casino Racing Pompano Park
Pompano Beach Water Taxi
Tri-Rail
Festival Marketplace
Pompano Municipal Pier
26 Degree Brewing Company
Pompano Beach Amphitheater
Sample-McDougald House
Coastal Community Church
All are locations that tourists and residents can visit with family and friends to ensure they have a good time either over the weekend or after work. Of course, these places all have the unfortunate reality attached to them. The fact of accidents that are caused by negligent employees and owners every day. You could be at the Festival Marketplace shopping for groceries or a lamp and end up on your back due to an employee leaving out a product. You could be at the Brewing Company and find yourself with a broken foot due to the restaurant not putting down a wet floor sign. Should this happen to you, contact Wolfson & Leon in Fort Lauderdale.
Fort Lauderdale Slip and Fall Lawyers for Pompano Beach Victims
Wolfson & Leon is more than ready to work with you. Jonah Wolfson and his bilingual team of Fort Lauderdale Slip and Fall Lawyers for Pompano Beach Victims are just one phone call away. They can get you the information you need to ensure that you know just what to do to get the compensation you need. One quick phone call is all it takes, call today at (954) 530-3918 and get the help you need.