Motorcycle Accident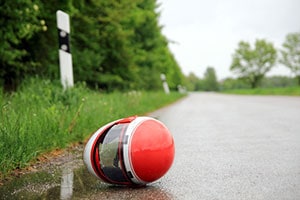 If you were injured in an accident with motorcycle involved in Plantation, Florida, call our Plantation motorcycle accident lawyers at Wolfson & Leon for assistance. You may be entitled to damages recovery, but you'll get it only if you take all the right steps right from the beginning. That's the reason why you need a South Florida injury attorney immediately.
After an accident occurs, you may be left with unexpected expenses and impacts to your life. As you recover and attempt to action your next steps, your first thought is how will you pay for everything. If you thought that you could represent yourself, you are well advised to avoid that. Insurance companies and liable drivers love when injured folks go through the compensation procedure alone because most often, they settle for less than they deserve. However, you'll have many injury-related bills to pay, so you have to think about getting the compensation that you deserve. If you need help, call us at (954) 530-3918 for free and no-obligation consultations. You can learn about your rights at no charge.
Plantation
Plantation, Florida, has nothing to do with any plantations in the area. It got its name from the Everglades Plantation Company, which owned the land of what is now the City of Plantation before Frederick Peters bought it in 1930's. This land was then master planned by Russell Pancoast and finally incorporated in 1950's. From that time the city started growing in population. Today 93,000 residents live in Plantation.
The city is located in the central part of Broward County, between Sunrise on north and west, Lauderhill on the north, Davie to the south, and Fort Lauderdale to the east.
Plantation has had many several businesses and organizations headquartered there in the past, including Motorola and Magic Leap. DHL presently has its headquarters for Americas there.
Plantation Motorcycle Accident Lawyers
Plantation is in the heart of Broward County, which is home to nearly 2 million residents and also an unfortunate statistic of nearly 40,000 automobile accidents per year. With the major highway of interstate 595 running along the border of the city, there are many people that commute to or through Plantation on a daily basis. These are reasonings as to why riding a motorcycle in this area can potentially put you at a greater risk of being involved in an accident. There are many different types of motorcycle accidents occurring in Plantation, but the most common are:
Motorcycle Accidents Involving Uber or Lyft Drivers in Plantation Florida
Plantation Florida Motorcycle Accidents with Lyft Drivers
Wrongful Death Claims Due to Motorcycle Accidents in Plantation Florida
Rear-end Collisions in Plantation Florida With Motorcyclists
Drunk Driving Motorcycle Accidents in Plantation Florida
Rollover Motorcycle Accidents in Plantation Florida
Plantation Florida Miami T-bone Motorcycle Accidents
Sideswipe and Merging Motorcycle Accidents in Plantation Florida
Plantation Florida Motorcycle Pedestrian Injury Accidents
Motorcycle Accidents with Uber Drivers in Plantation Florida
Road Rage Motorcycle Accidents in Plantation Florida
Aventura Miami Motorcycle Accident and Injuries Caused by Car Drivers
Head-on Collisions with Motorcycles in Plantation Florida
Left Turn Motorcycle Accidents in Plantation Florida
Plantation Florida Motorcycle Accident Attorneys
At Wolfson & Leon, our Plantation motorcycle accident attorneys represent motorcycle drivers and passengers who have been injured in a motorcycle accident in Plantation. We also represent people who have been injured by reckless motorcycle drivers.
When you call us for the free consultation, we will listen patiently and carefully to understand what happened. If you choose us to represent you, we will gather and examine the evidence for your claim. We will work with you, with the witnesses, with the doctors, and others who can contribute to the desired outcome.
Let's start with the free consultation. You'll have no obligation to hire us, but you'll learn how your case might unfold. If you decide to hire us afterwards, you won't pay us any fee until and only if we recover for you. Call us now at (954) 530-3918.