Slip and Falls Victims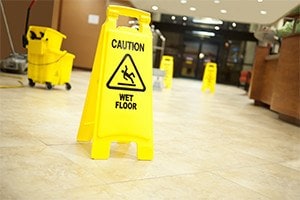 Taking the time out of your day to go to your local shop in Pembroke Pines shouldn't be something that leaves you with lifelong pain. It would seem highly unlikely that this would happen, but you would be surprised. Accidents located at public/private property happen due to negligence. Often that leaves the victims with the bill, and the companies or owners of the property scrambling to pin the blame solely on you.
When this occurs, it is essential to know who you can count on. Wolfson & Leon has been in service for the good people of Pembroke Pines for decades. Since they opened their doors in 1963, the 55 years that they've put into helping all those with legal issues could speak for itself of the dedication they have towards making sure their clients are compensated. Finding yourself in a slip and fall can be not only catastrophic, but it is also usually shocking. You're just out to ensure that you're getting what you need from your local shop, or you're taking the time out in the town, then you're on your back, and pain is shooting through you. These accidents are the reality many of us face when dealing with a slip and fall.
Wolfson & Leon in Fort Lauderdale has been helping victims in Pembroke Pines for years and they're more than willing to serve you with that help. Getting in contact with them can do you wonders in seeing that you get the compensation you deserve and need for the pain that you've suffered. Take the time to give them a call at (954) 530-3918 and see to it that you stop suffering in silence and get the care that you deserve.
Pembroke Pines
Shopping is not only easy in Pembroke Pines, but it's also excellent, as a myriad of shopping centers, plazas, and other convenient locations keep the busy shopper more than stocked with places to go shopping, eat, and relax. Some of the most prominent shopping plazas located in Pembroke Pines include:
Shops at Pembroke Gardens
Flamingo Pines Plaza
Parasio Parc
Pembroke Lakes Mall
Pembroke Lakes Square
Cobblestone Plaza
Pembroke Centre
Shoppes of Silver Lakes
Palm Johnson Plaza Shopping Center
Pembroke Crossings
Village Square Shopping Plaza
All of these and more carry the assortment of shopping experiences that a well-to-do suburban shopper can enjoy and shop to their heart's content. Of course, what many of these places also carry in spades is the liability for an accident to happen. Wherever humans exist, the possibility for something to go wrong also does. You could be walking along with no care to the world, and an employee could forget to put down a wet floor sign, sending you tumbling onto your back, and leaving you a broken mess on the floor.
Accidents are all too common, and there is no shame in seeking help when you're in the middle of such a horrendous fall. Time and effort are going to be required so that you get yourself back on your feet. Time, energy, and especially money. When this occurs, you can be sure of several things; for one the company or owner of the place you've been subject to an accident of will do their best to distance themselves from you. All liability will be placed on you, as a slip and fall case could cost companies loads of cash in compensation fees. The second thing you can be sure of is that you'll be harassed by every lawyer that has access to accident information. When this happens, it's essential to know who to trust.
Fort Lauderdale Slip and Fall Attorneys for Pembroke Pines
With minimal time and effort, you can reach out to the attorneys of Wolfson & Leon. They do their utmost in working with their clients towards a healthy and productive relationship. Jonah Wolfson is the managing attorney of the firm, he and his bilingual team of Fort Lauderdale Slip and Fall Lawyers for Pembroke Pines victims, are more than happy to take your call right away. Give them a ring at (954) 530-3918 and speak to them to set an appointment. The consultation is free, and they're more than willing to talk over your case and help you get on the right path towards compensation.