Motorcycle Accident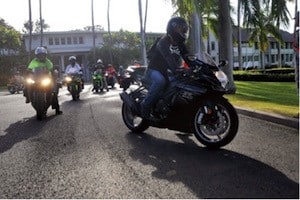 The privilege to operate a motor vehicle is available to everyone with the proper completion of a licensing exam. With this license, a person is allowed to responsibly drive a vehicle on a daily basis. There are people that decide to not drive a normal 4 wheeled vehicle, but to acquire an additional license in order to operate a motorcycle or a two wheeled vehicle. The reason an individual would need a separate license for this type of vehicle, is to show their competence as well as to ensure that they are prepared for the additional risk that comes with riding a motorcycle. Owning a motorcycle license, having completed the proper training and following the laws of the road may still not be enough to avoid an accident. This can be the result of a lack of awareness from the rider but is usually the result of a negligent driver. When an accident does occur, there is a high percentage of an injury being sustained and can unfortunately be a serious injury more often than not.
If you have sustained personal injuries due to a motorcycle accident in Pembroke Pines, Broward County, you should contact an experienced South Florida injury attorney to help you determine if you can claim damages recovery or not. Whether you were the one driving the motorcycle in the accident or not, if it was someone else's fault, it's not fair for you to pay all the medical and non-medical bills due to the injuries. You can call our Pembroke Pines motorcycle accident attorneys at Wolfson & Leon for assistance in investigating the circumstances of your case and determining whether you are entitled to compensation. You can reach us at (954) 289-5954 for free consultations.
Pembroke Pines
Pembroke Pines is located in the southern part of Broward County, and it is one of its largest cities. With 170,000 residents, it is the 17th most populated city in Florida and second most populous city in Broward County, after Fort Lauderdale. Pembroke Pines neighbors Hollywood on the east, Miramar on the south, Everglades on the west, and Davie, Cooper City, and Southwest Ranches on its north side.
Pembroke Pines is commonly referred as the "City for Your Family and Your Business." After incorporation in 1960, it started growing quickly, and soon surrounding neighborhoods became parts of the city. The hurricanes played their role as well, as they have made many residents of surrounding oceanside areas move there for safer life.
The intersection between Flamingo Road and Pines Boulevard in Pembroke Pines was once considered one of the most dangerous intersections in the United States, as motorcycle accidents, car accidents, and truck accident were occurring there regularly. The intersection has been redesigned since then, but that hasn't stopped traffic accidents in the city.
Pembroke Pines Motorcycle Accidents
Getting injured in a motorcycle accident in Pembroke Pines usually happens due to some of the following events:
Pembroke Pines Motorcycle Pedestrian Injury Accidents
Pembroke Pines Motorcycle Accident and Injuries Caused by Car Drivers
Pembroke Pines Motorcycle Accidents with Lyft Drivers
Pembroke Pines Drunk Driving Motorcycle Accidents
Motorcycle Accidents Involving Uber or Lyft Drivers in Pembroke Pines
Motorcycle Accidents with Uber Drivers in Pembroke Pines
Pembroke Pines Head-on Collisions with Motorcycles
Pembroke Pines Wrongful Death Claims Due to Motorcycle Accidents
Pembroke Pines Rear-end Collisions with Motorcyclists
Rollover Motorcycle Accidents Pembroke Pines
Pembroke Pines T-bone Motorcycle Accidents
Pembroke Pines Sideswipe and Merging Motorcycle Accidents
Left Turn Motorcycle Accidents Pembroke Pines
Road Rage Motorcycle Accidents in Pembroke Pines
Pembroke Pines Motorcycle Accident Lawyers
If you were injured in a motorcycle accident in Pembroke Pines, call a South Florida injury lawyer for help. Insurance companies love to deal with people who try to represent themselves before speaking to an attorney. They know that you don't know what's the maximum amount of money you can get as compensation and will try to take advantage of you. To avoid that, call us now at (954) 289-5954 for free-of-charge consultations. We are available 24 hours a day, seven days per week. Our Pembroke Pines motorcycle accident lawyers advise and represent good people from Pembroke Pines or who got injured there for more than 50 years. You don't pay us unless we recover for you.