Head Injury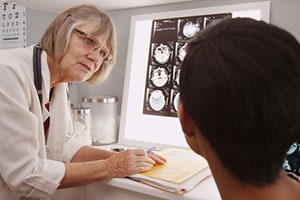 It is estimated that 2.5 million Americans suffer from a traumatic brain injury each year. Traumatic brain injuries can happen when the head hits a hard surface, such as a road, floor, or shelf. In some cases, injury can happen if the head jerks back and forth quickly, whereby your brain moves at a slower rate than your head. This can cause the tearing of the tissues or it can damage your brain directly.
If you have suffered a traumatic brain injury as the result of an accident that wasn't your fault, you may be wondering if you have a case. Perhaps you are starting to receive bills for medical treatment or haven't been able to return to work since your injury. A Pembroke Pines head injury attorney can help navigate you through the process and advise you of your options and your rights. Call Wolfson & Leon at (954) 289-5954 for a free and confidential review of your case.
Causes of Traumatic Brain Injuries
The Center for Disease Control reports that traumatic brain injuries occur due to;
28% of brain injuries result from falls
20% of injuries are caused by automobile accidents
19% occur when the head is hit with an object
11% result from assaults
Of those who have been injured as the result of trauma to the head, an estimated 50,000 die and 80,000 suffer from permanent disability.
Compensation from Traumatic Head Injury Cases
Victims who have sustained a traumatic brain injury may be entitled to receive compensation to help them restore their lives to what it was before the accident.
Medical expenses
Lost wages
Continuing Care
Pain and suffering
Serious injuries to the brain may result in permanent damage, which may require future care and medical expenses. To ensure that you receive the compensation needed to cover your injuries, contact the Pembroke Pines personal injury attorneys at Wolfson & Leon.
Pembroke Pines Head Trauma Law Firm
Pembroke Pines is thriving city located in southwestern Broward County in South Florida. It boasts a population of 166,530, making it one of the largest cities in the state of Florida. The city is racially mixed, with 43% of its residents being of Hispanic origin, 30.4% are white, and 19.1% are African American. The average age of its residents is slightly over 40 years old and it houses a mixture of residential neighborhoods and retirement communities. Over 72% of the population owns their homes and the average commute time for people who work is 30.2 minutes.
If you have been the victim of a head injury accident, the Pembroke Pines personal injury attorneys at Wolfson & Leon can answer questions that you may have and explain the process of filing a claim. Our Pembroke Pines traumatic brain injury lawyers represent a variety of client cases including;
Lawyer for wet floor slip and fall accident in a grocery store leading to a traumatic head injury in Pembroke Pines
Pedestrian hit by automobile resulting in severe head trauma attorney in Pembroke Pines
Pembroke Pines attorney for motorcycle accident traumatic brain injury lawyer
Brain injury caused by trip and fall accident in a parking lot lawyer in Pembroke Pines
Pembroke Pines attorney for automobile accident head trauma
Attorney for concussion injury resulting from a violent crime
Shopping mall slip and fall head injury accident lawyer in Pembroke Pines
Broken sidewalk trip and fall brain injury attorney in Pembroke Pines
Pembroke Pines lawyer for trip and fall accident in housing complex resulting in traumatic brain injury
Restaurant slip and fall brain injury attorney in Pembroke Pines
Brain Injury Law Firm in Pembroke Pines
Wolfson & Leon serves clients throughout Pembroke Pines and its surrounding cities of Miramar, Sunrise, and Plantation. With offices located in Fort Lauderdale, Miami, West Palm Beach, and Fort Myers, Wolfson & Leon defends victims with traumatic brain injuries. If you or someone you love has been injured, find out what your rights are by contacting a Pembroke Pines brain injury lawyer at Wolfson & Leon. For a free and private consultation, call (954) 289-5954 today.