Slip and Fall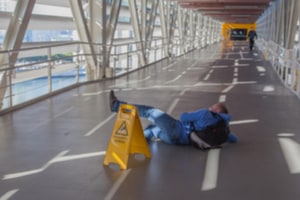 You can find yourself in all sorts of situations in life; you could be hit by a car, you could be struck by lightning, you could win the lottery, you could even become President of the United States. Whatever the case, being prepared and facing your situations head-on can only help you in the long run. You may not suddenly become President, but you can certainly prepare for the more likely scenarios in your life.
One such scenario is something that we can face every day, and that is accidents. Accidents happen, that's how the saying goes, should you go somewhere and be in someplace that is unfamiliar, your chances for a bodily accident becomes exponentially higher. Should this place be poorly maintained and have workers who care little for their job, much less for the people they serve? Then your chances for an accident just shot up to astronomical levels. Suddenly what was supposed to be a calm night out buying some extra ice cream, or going out with your friends, or taking that walk in the park, has become a personal nightmare all your own. There's a pain, there's an ambulance, and now there are bills and lots of physical therapy.
It is unfortunate, but it is a reality of accidents that you can do little to avoid. Of course, having someone on your phone to speak to to get yourself back together can help in alleviating that pain somewhat. Look no further than Wolfson & Leon, who've been hard at work helping the good people of Parkland and Fort Lauderdale for decades, and they're more than willing to help you too.
They opened their doors in 1963 and have been at the service of Floridians for over 50 years. You can be sure of their knowledge and experience with just that statement alone, but if you're skeptical, we recommend you view our client review page and see just what our past clients had to say about us. We understand that picking out an attorney can be a long and arduous process, especially if you're smart enough to do your research before-hand. We respectfully request that you take the time to talk to us, give us a call at (954) 530-3918 and get a free consultation with our Fort Lauderdale accident attorneys at the firm. There they can go over your case with you and begin to take you on the long process of getting yourself back together.
Parkland Florida
A beautiful domestic city, Parkland Florida, is primarily known for the zoning laws that it implements to give its city its park-like quality. For many years, it ensured that no shops or traffic lights could be found in its cities until the mid-1990s when the larger neighborhood developments began. Now it is home to various shops and a slowly growing population. According to the 2010 census, it is currently capped at just below 24 thousand people, with that likely changing come the next primary registration. As for shopping centers, many began to pop up after the 2000s, as more families moved into developing communities. Some of these centers include:
Shoppes at Parkland
Sandalfoot Square
Promenade at Coconut Creek
Pine Ridge Square
Brookside Square
Shoppes at Heron Lakes
Parkland Commons
These quaint shopping plazas allow for affordable prices as well as fantastic restaurant choices for those who call Parkland their home. Of course, these places are also likely sites for accidents, so being aware of your surroundings, and ensuring the promise of safety that is afforded to you by premises liability is not broken, can do a lot to benefit you not having to pay for your night out in the town.
Fort Lauderdale Slip and Fall Attorney for Parkland Victims
Jonah Wolfson is the managing attorney at the firm, he and his bilingual team of Fort Lauderdale slip and fall attorneys for Parkland victims are standing by to take your call right away. Speaking to them will help you figure out the next steps in getting your case settled and seeing to it that you have the money you need to recover. Don't hesitate, call today for peace of mind at (954) 530-3918.