Car Crash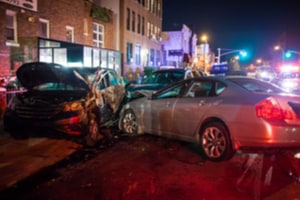 Cars travelling at excessive speeds pose a serious hazard to others on the road. Drivers who speed on the highway may not be able to slow down quick enough if traffic comes to a stop or slow down. Speeding on wet roads can result in hydroplaning, causing the car to slide into another automobile, barrier, or median. Drivers who speed on city streets or in residential neighborhoods run the risk of hitting pedestrians or bicyclists on the road, cars pulling in and out of driveways or shopping centers, or cars turning in intersections.
Getting hit by a driver who is speeding can cause serious injuries. The sheer speed can magnify the impact of a car hitting another object. If you've been hurt as the result of being hit by a driver who was speeding, your injuries may require extensive medical tests and treatment. Injured victims are often not able to work during their recovery period, which can restrict their ability to pay for basic household needs, such as rent, food, and utilities. Injured victims of car accidents should contact the Fort Lauderdale car accident lawyers at Wolfson & Leon. They offer a free, initial consultation to answer your questions and advise you of your options. If you have been hurt as the result of a speeding driver and don't know what to do next, call (954) 530-3918 today.
Parkland Car Crash Law Firm
The city of Parkland was incorporated in 1963. At its inception, Parkland was known as a farming community. Over time, the new residential developments began to pop up around the city. In the 1980s, Oriole Homes began to develop the Country Place residential neighborhood. To attract new residents, the city of Parkland decided to purchase a covered bridge for a local park to help enhance the area's country-feel. The bridge is considered unusual as it was not placed over any water or land depression. Instead, it was placed in between a pond and a lake, in the middle of an area of flat, dry land. Today, the bridge is still an attraction for the park and is a popular spot for weddings and photo shoots.
Parkland is an upscale residential community with a population of 28,901 people. The median household income is $131,525 and the median property value is $548,400. Residents of Parkland spend an average of 24.4 minutes commuting to work each day. The most common jobs that Parkland residents hold are in the areas of management, administration, and sales. The top industries that employ Parkland residents include professional and scientific, health care, and retail.
Parkland Car Accident Attorney
Our Fort Lauderdale car crash attorneys defend the rights of injured victims in many different situations including;
Parkland lawyer for injuries resulting from a car accident
Wrongful death car crash lawyer in Fort Lauderdale
Attorney for hit and run automobile accident injury in Parkland
Drowsy driver rear-end injury accident lawyer in Fort Lauderdale
Parkland head-on collision automobile crash attorney
Attorney for pedestrian injured crossing the road in Parkland
Fort Lauderdale lawyer for car crash accident injury resulting from running a stop sign
Pulling out of a parking lot car accident injury attorney in Parkland
Wrong-way car accident injury Fort Lauderdale lawyer
Failure to yield to traffic at a four way stop car crash injury Parkland attorney
Bicycle injury resulting from a reckless driver in Parkland
Distracted driver car accident injury Parkland lawyer
Failure to yield automobile crash injury attorney in Fort Lauderdale
Parkland attorney texting injury car accident
Car backing out of a driveway striking a pedestrian accident injury lawyer in Fort Lauderdale
Heavy construction truck injury accident attorney in Parkland
Attorney for rear-end car crash injury in Parkland
Parkland attorney for automobile crash injury resulting from impaired driver
Parkland Automobile Crash Injury Law Firm
If you have questions about receiving compensation for your injuries, repairing damage to your property, or if you are unsure if you have a case, contact the Fort Lauderdale automobile accident attorneys at Wolfson & Leon. Since 1963, our personal injury attorneys have represented victims of car crashes. We will file your case, represent your interests to insurance companies, and defend your rights as we negotiate a settlement or present your claim in court.
Wolfson & Leon has offices located in Fort Lauderdale, Miami, West Palm Beach, and Fort Myers. We proudly represent the residents of Parkland and its surrounding cities including Coral Springs and Boca Raton. If you have questions or would like to learn what your rights are, call Wolfson & Leon at (954) 530-3918 today.