Slip and Fall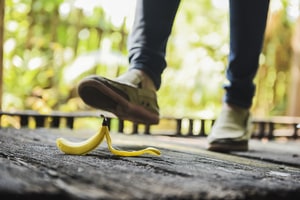 After suffering from an accident, it is straightforward to feel lost, especially when you've suffered an accident as ubiquitous as a slip and fall. These accidents happen all the time, often to those that are not paying attention or letting themselves go through the motions of the day. When this happens, they usually brush themselves off and continue on their day without paying any mind, but on more than a few occasions, brushing yourself off is not an option. This happens when the slip and fall does something terrible to your body; it breaks a bone or leaves you with brain damage that permanently changes the way you think or speak. It may seem implausible, but it happens more often than you think, and that is why we're here to help.
Here at Wolfson & Leon, we've been working on accidents like these as well as a variety of others for decades. So, we both understand and have extensive knowledge on the information we're providing. The law of premises liability can be tricky, but the gist of it is that when you walk into someone's property, be it public or private, you're made a promise. One of reasonable safety and security to go about your business until you decide to leave. When you've found yourself in a slip and fall and are now on your back and groaning in pain, that means that someone may have broken that promise to you. Now legal counsel is needed to determine who's at fault.
Wolfson & Leon has been fighting for victims since they opened their doors in 1963. That's 55 years of service to the good people of Fort Lauderdale and beyond, and they're willing to turn that service to you, for you to get the compensation you desperately need and deserve. Take the time out of your day and get in contact with our Fort Lauderdale accident lawyers. We offer free consultations and the ability to speak to an attorney right away so that they can talk to you about your case. We know you don't need to spend time dealing with a legal assistant or a secretary. We know that you want to get to someone who will tell you like it is, and will give you a plan of action for what can be done next. We want to be those people, give us a call at (954) 530-3918 and see to it that you get on the path of recovery.
Oakland Park Florida
With a growing population of over 41 thousand people, it is essential to know that Oakland Park is a beautiful place to work, live, and shop at. You can find many open plazas with a myriad of stores ready to take you in and sell you all that you deem necessary for your home, your persons, or your friends. Some of the plazas that can be found in Oakland Park include:
Northridge Shopping Center
USA Oakland Park Flea Market Mall and Shopping Center
Lakes Mall
Gold Coast Plaza
Oakland Plaza
Inverness Plaza
The Shoppes of Oakland Forest
Roselli Park Plaza
Oakland Forest Plaza
All of these places and more offer fantastic shopping experiences, but they also must promise the safety and security for every single one of their customers. This can be hard to do, and no one there is omnipotent, so it is no wonder that accidents do sometimes happen. When this is the case, it is essential to call those that will come to your aid right away, at least, after you've been checked out by a doctor and are in no immediate danger for your life.
Fort Lauderdale Slip and Fall Lawyers Helping Oakland Park Victims
Jonah Wolfson is the head lawyer of the firm, he and his bilingual team of Fort Lauderdale Slip and Fall Lawyers helping Oakland Park victims want to hear from you right away. They can take the time needed to listen and understand your predicament, especially when you've suffered a debilitating accident. They've been helping the good people of Fort Lauderdale for decades, and they wish to do the same for you. Give them a call as soon as possible at (954) 530-3918 and see to it that you're put on the path to recovery.