Miramar Traumatic Brain Injury Law Firm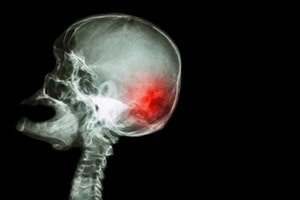 People who have been injured in an automobile or slip and fall accident may have experienced trauma to their head. In some cases, they may not even be aware of the injury. A sudden blow to the head can happen if it hits a window, steering wheel, or is struck by a flying object launched from the back seat during a car accident. Motorcycles or pedestrians that are hit by a car may slam their heads on the hard road, sidewalks, or signs as they fall. Slipping on a wet floor can cause injury if the head smacks the floor, counter, or another hard object. Brain trauma can occur even if the head isn't hit by anything. The rapid jarring movement that can jerk the head back and forth quickly can tear the delicate tissues that hold the brain in place.
These traumatic brain injuries require an immediate medical evaluation, even if you feel fine. Minor injuries, such as concussions or brain contusions, can turn into serious conditions if they are not treated. Losing consciousness, severe headaches, persistent vomiting, or extreme behavioral changes may be an indication of a serious traumatic brain injury. Permanent injury can result if left untreated.
Traumatic brain injuries can result in extensive medical treatment and expense. Victims who are in recovery may be unable to work. A permanent brain injury can impact the quality of a person's life, as well as the family who cares for them. To receive the compensation you need to recover from your injuries, you should contact the Miramar traumatic brain injury lawyers at Wolfson & Leon. With over 55 years of experience defending the rights of injured victims, they will represent your interests with insurance companies, large corporations, and their legal teams. If you've been injured and wonder if you have a case, call the Miramar head trauma lawyers at Wolfson & Leon for a free consultation at (954) 530-3918.
How Do I Determine If I Have A Traumatic Brain Injury?
If you have been injured in a slip and fall, automobile, or any other accident, always seek medical attention, even if the accident was minor. Injuries to the brain can result from seemingly minor accidents. It may be hours, days, even weeks, before you can see the symptoms. Getting checked out early can prevent a minor injury from turning into something more serious.
Your medical professional will often review your patient history. Victims with a past history of concussions may be at a greater risk for a traumatic brain injury if they experience another concussion. A skull examination can reveal other potential injury, such as a fracture or swelling. Bruises or black eyes can also be a sign that the skull has been injured. Bruising from behind or bleeding from the ear, as well as clear fluid dripping from the nose or ears, may be a sign that a bone that supports the brain may have been broken. A proper assessment from a medical professional is necessary to determine the extent of your injury so that you can obtain proper treatment, as well as rest.
Brain Injury Lawyer in Miramar
The city of Miramar was originally established when developer A.L. Mailman built 56 low- cost homes in 1953. The city was named after a neighborhood in Havana where Mailman had a second home. With an original population of less than 200 people, the city was incorporated in 1955. Over time, Miramar has seen exponential growth, with a current population of a 140,328 residents. The city has a racial mix of 46.6% African American, 36.3% Hispanic, 10.9% white, and 5.6% Asian residents.
Our Miramar personal injury attorneys serve clients that have suffered traumatic brain injuries resulting from accidents including;
Miramar car crash accident causing a severe brain injury attorney
Shopping mall slip and fall head trauma attorney in Miramar
Falling overhead sign at a construction site in Miramar resulting in a head injury lawyer
Miramar attorney for parking lot criminal activity traumatic brain injury victim
Sidewalk trip and fall concussion injury lawyer in Miramar
Grocery store slip and fall traumatic brain injury victim in Miramar
Brain Trauma Injury Law Firm in Miramar
Since 1963, the Miramar traumatic brain injury attorneys at Wolfson & Leon have represented the interests of accident victims who have suffered from head trauma. Whether you just have questions or would like to discuss a potential case, contact us today for a free consultation. Call the personal injury attorneys at Wolfson & Leon today at (954) 530-3918.