Car Crash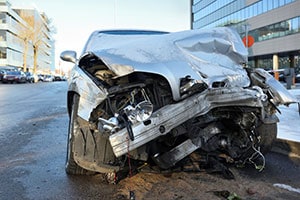 Sadly, car accidents are an everyday occurrence on the streets of South Florida. Large volumes of tourists, heavy commuter traffic, and constant road construction pose daily hazards. Drivers who speed, fail to follow traffic signs or rules of the road, or distracted by cell phones cause car accidents. In addition, the heavy rains in South Florida can lead to wet roads and visibility issues for drivers.
If you've been hurt in a car accident that wasn't your fault, you may be wondering what to do next. You may have questions such as;
Should I see a doctor even if just have a few bumps and bruises?
I fractured my shoulder when I was hit by another car. Who pays for my emergency room visit? What happens if I can't work while I'm in recovery?
The doctor says I need to go through six weeks of physical rehabilitation for my shoulder, three days a week. Can I recover the wages that I lose when I'm at therapy?
My car was totaled in the accident. What do I do next?
If you or someone you love has been injured in a car accident, contact the Fort Lauderdale car crash lawyers at Wolfson & Leon. Our personal injury attorneys can review your situation and advise you of your options. For a free consultation, you can speak with a personal injury attorney at (954) 530-3918.
Lauderhill Automobile Accident Injury Attorney
Established in 1959, Lauderhill became known as a retirement and second-home community. Herbert Sadkin, a real estate developer, built 200 homes in the mid-1960s that were inspired from architectural designs sold in Macy's department store. The homes were smaller and had top-of-the-line appliances, which attracted couples looking to retire or spend the winter months down in the warm weather.
Over time, the demographics of Lauderhill began to shift. The city began to attract more families that were seeking quality, but lower cost, housing. Currently, Lauderhill has 70.963 residents with over 77% of its population being African American. The median property value in Lauderhill is $114,500 and the homeownership rate is 51.1%. The median household income is $38,805, rising over 3% from the prior year. The poverty rate is 24.3%, with women between the ages of 25 – 44 and girls between the ages of 6 – 11 making up the largest percentage.
There are 31,270 residents that live in Lauderhill that are employed. When compared with other cities, Lauderhill has large number of residents who work in healthcare and fire prevention. The average commute time is 28.6 minutes.
Fort Lauderdale Car Accident Lawyer in Lauderhill
We represent Lauderhill residents who have been hurt in car accidents. Wolfson & Leon defends victims who have been injured as the result of;
Lauderhill car accident injury lawyer
Fort Lauderdale attorney for car crash accident injury resulting from running a stop sign
Bicycle rider hit by a speeding car causing a serious injury lawyer in Lauderhill
Distracted driver car crash in a Lauderhill residential neighborhood injury attorney
Fort Lauderdale failure to stop at a red-light car crash injury lawyer
Intoxicated driver car accident attorney in Lauderhill
Wrongful death car crash accident attorney in Lauderhill
Fort Lauderdale attorney for head-on collision car crash injury
Texting car accident injury Lauderhill attorney
Mobile phone distracted driver automobile accident attorney in Fort Lauderdale
Wrong-way accident injury attorney in Lauderhill
Lawyer for hit and run car accident injury in Lauderhill
Driver impairment leading to an automobile accident injury Fort Lauderdale
Sidewalk car crash pedestrian injury Lauderhill attorney
Large commercial truck injury accident lawyer in Lauderhill
Attorney for pedestrian injured in crosswalk car crash in Fort Lauderdale
Lauderhill high speed highway car chase resulting in serious injury attorney
Parking lot car accident injury attorney in Lauderhill
Failure to yield automobile crash injury lawyer in Fort Lauderdale
Lauderhill attorney for rear-end automobile accident injury
Fort Lauderdale Automobile Crash Injury Law Firm for Lauderhill
Wolfson & Leon has defended the rights of car crash victims for over 55 years. Our personal injury attorneys will prepare your case, correspond with insurance companies and their legal teams, and will negotiate a settlement on your behalf. If settling the case is not an option, our Fort Lauderdale car crash attorneys will defend your rights in a court of law. For a free consultation, call (954) 530-3918 to speak with a personal injury attorney today.