Car Crash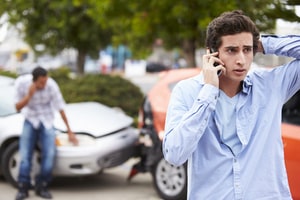 Warm tropical weather and sunny skies attracts millions of tourists to South Florida each year. However, South Florida is also known for its rain. Wet roads create hazardous conditions on any street or highway. Although weather conditions should trigger us to slow down and drive with greater care, that is not always the case. Speeding on wet, slippery roads can result in cars that are unable to stop at intersections or stop signs. Water that pools on the streets and highways can lead to hydroplaning. This can cause drivers to lose control over their vehicle and hit another car or slide into a median or barrier on the road. Heavy rain can also limit a driver's visibility. This can make it difficult to see stop lights or road signs, cars pulling off and onto the road, or parked cars on the side of the road.
Car accidents that are caused by hazardous driving conditions can lead to serious, even fatal, injuries. Drivers who are speeding or lose control over their cars cannot react effectively enough to prevent an accident, which can lead to serious injuries in a crash. If you are suffering from serious injuries resulting from a car accident caused by poor weather, you should speak with a Fort Lauderdale car accident lawyer. Attempting to settle these matters on your own can leave you with less compensation than you need to recover from your injuries. Personal injury lawyers will look beyond the accident to consider other factors, and parties that may have contributed to the accident to help you receive the necessary compensation you need. They will also consider your current and future compensation needs, as many people require future rehabilitation and continuing care as they recover from their injuries. To find out what your rights are and compensation you may be entitled to receive, call Wolfson & Leon at (954) 530-3918 today.
Lauderdale Lakes Automobile Accident Lawyer
Established in 1961, Lauderdale Lakes was once an attractive city for retirement. It had a large influx of Jewish New Yorkers looking to live in warmer weather. Over time, African American families began to move into the community and now represent 84% of the population.
Lauderdale Lakes has a population of 34,744 people. It is a family-friendly community with plenty of schools, parks, and places to shop. The median household income is $33,754, which is significantly less than the nationwide median household income of $60,336. Median property values in Lauderdale Lakes is $101,600 and the homeownership rate is 54.3%. There are 15,161 residents from Lauderdale Lakes who are employed and spend an average of 28.5 minutes commuting to work. The most common jobs held by residents are in administrative support, sales, and healthcare supporting occupations. The most common industries that residents in Lauderdale Lakes are employed in include retail, healthcare, food service, and lodging.
Lauderdale Lakes Car Accident Lawyer
The personal injury attorneys represent car accident victims who have been injured. We cover a range of accidents including;
Lauderdale Lakes car accident injury attorney
Motorcycle and automobile crash injury lawyer in Lauderdale Lakes
Pedestrian crosswalk injury attorney in Lauderdale Lakes
Fort Lauderdale speeding driver running a red light accident injury lawyer
Distracted driver injury car crash lawyer in Lauderdale Lakes
Defective car part leading to a car crash injury in Lauderdale Lakes
Lauderdale Lakes lawyer for heavy construction truck accident injury
Fort Lauderdale failure to yield when pulling out into oncoming traffic car crash injury attorney
Teen driver car crash attorney in Lauderdale Lakes
Attorney for serious injury from a rear-end car accident in Lauderdale Lakes
Impaired driver leading to a car accident injury in Fort Lauderdale
Fort Lauderdale attorney for head-on collision car accident injury
Poor driving conditions leading to a serious automobile accident in Lauderdale Lakes
Texting and driving car accident crash injury lawyer in Lauderdale Lakes
Drowsy driver runs red light causing an automobile accident injury in Fort Lauderdale
Attorney for pedestrian injured in a sidewalk car crash in Lauderdale Lakes
Lauderdale Lakes wrong-way driver automobile accident attorney
Speeding on residential streets crash causing serious injury attorney in Lauderdale Lakes
Impatient driver causing a serious car accident injury lawyer in Fort Lauderdale
Lauderdale Lakes attorney for hit and run accident injury
Parking lot car accident injury attorney in Lauderdale Lakes
Attorney for Lauderdale Lakes bicyclist injured in a car accident
Lauderdale Lakes Automobile Crash Injury Law Firm
Poor weather conditions are a common occurrence in South Florida. They are often a contributing factor to a car accident. Since 1963, our Fort Lauderdale personal injury lawyers have represented injured car accident victims. They answer your questions, advise you of your options, research and prepare your case, negotiate with insurance companies, and defend your rights in court.
Wolfson & Leon has four offices located throughout South Florida including Fort Lauderdale, Fort Lauderdale, West Palm Beach and Fort Myers. Call (954) 530-3918 for a free and confidential consultation.