Slip and Fall Lawyer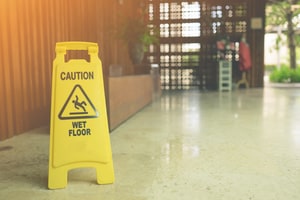 Finding yourself in a slip and fall accident in Hollywood may seem like no big deal, heck it might even seem comical to you. We've all seen comedy movies where slapstick was the central theme, where people fell and tripped and found themselves in hilarious situations that left them with little more than a bruised ego and laughing friends. Unfortunately, real life is very little like the movies. It is even less like genres such as slapstick as in reality, slip and falls like the ones witnessed in the film could leave a person seriously injured or worse, dead.
You should not have to suffer from these types of incidents without due compensation; we know that you've suffered through something that no one should even dare to laugh at, and we want you to know that we're ready to help. Here at Wolfson & Leon of Fort Lauderdale, we've been dealing with slip and fall accidents for Hollywood victims for decades, and we're more than ready to help you. With some time and effort, we can look over your case and analyze exactly where the owner of the property went wrong, and just why you need compensation in the first place. The time you spend on your bed recovering from your accident should not be one that's spent with a mind full of worry; you should focus on getting yourself back on your feet. You need to get back to work, to provide for your family and yourself. We wish to take that burden from you.
Wolfson & Leon has 55 years of service to show you just how committed they are to help those that have found themselves in a slip and fall accident. Thousands of their clients have experienced their dedication, and you can see just how satisfied they are by taking the time to look at the client review page they have on their website which are each unique case and do not guarantee similar results. There you can see just how they've done in helping those in need, and you can take solace in the decision of contacting them to help you. Give them a call at (954) 530-3918 for a free consultation and see to it that you're given the compensation you need and deserve to get yourself back on your feet.
Hollywood Florida: Most Common Slip and Fall injuries
Hollywood has many shopping centers for you to visit, from malls to plazas, one can find much of what they are looking for only a few miles from their homes. Regardless of where you find yourself, be it an expensive shopping hall or your round the block gas station, it is crucial to be aware of the types of injuries that you could face due to an accident such as a slip and fall. Some of the injuries include:
Back sprains and strains
Herniated discs
Torn ligaments
Bulging discs
Bruising and lacerations along the back
Traumatic brain injury and skull trauma
Concussions
Swelling and disfiguring head injuries
Broken noses, eye sockets, teeth, and several more facial injuries
Whiplash, strains, or sprains in the neck
Cord compression or paralysis due to spinal injury
It is a sad reality of our life that the human body could be so fragile, find yourself in the wrong place at the wrong time, and you could face horrible injuries that could leave your life changed forever. When this happens, you should not take your fate lying down, especially when the accident is because of no fault of your own. The negligence of another should not be the reason for so much pain, take the time to call Wolfson & Leon, and speak to the lawyers.
Fort Lauderdale Slip and Fall Attorneys for Hollywood
Wolfson & Leon has more than 55 years of service in helping the good people of Hollywood, and they want to help you too. Jonah Wolfson is the managing attorney of the firm; he and his bilingual team of Fort Lauderdale slip and fall lawyers for Hollywood victims are more than ready to take your call. Take the time to get in contact with them, and see to it that you stop suffering in silence, call them and get your life back on track, and they can be reached at (954) 530-3918 for a free consultation.