Brain Injury Accident Firm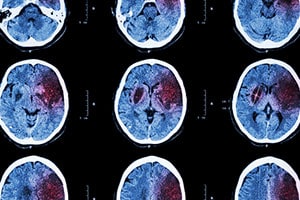 On a typical sunny weekend, it's not unusual to see hundreds of motorcycles on the road. With large number of cars on the roads travelling in Hollywood, motorcyclists may be subject to greater hazards. Cars that fail to stop at road signs or run red lights can hit motorcycles. Motorcyclists are also vulnerable when cars quickly switch lanes or stop unexpectedly. In some cases, a driver may not see the motorcycle and cut them off or hit them when changing lanes. Without the protective exterior that you find on a car, motorcyclists may absorb the full impact of an accident with their bodies. They may be knocked off or thrown from their bikes, hitting their head on the hard pavement or other objects.
According the US Department of Transportation, injuries to the head and chest are the most common injuries that occur in motorcycle accidents. Serious head injuries can have life-long implications to a victim. They can impact a victim's ability to think and reason, as well as affect how they move throughout the day. Severe brain injuries may require extensive medical treatment and recovery, which often times means that a victim is unable to work. If you are a motorcyclist and have been injured in an, you should consult with a Hollywood brain injury lawyer. You have rights, even if you share some of the responsibility for the accident. Call the Hollywood brain injury attorneys at Wolfson & Leon at (954) 530-3918 for a free assessment of your case.
Hollywood Head Trauma Lawyer
Incorporated in 1925, the city of Hollywood is a popular tourist destination tucked in between Fort Lauderdale and Miami. With over 140,000 residents, the city is a collection of residential neighborhoods, schools, parks, shopping, and restaurants. It is also a popular seasonal guest destination, with thousands of Canadian residents calling Hollywood home during the winter months.
Leading up to Hollywood Beach are palm-tree lined streets full of eclectic and uniquely-designed homes, reminiscent of an era that once was. With its collection of resorts, outdoor cafes, and specialty stores scattered along the paved 2.5 mile promenade along Hollywood Beach, this popular spot sees millions of guests and residents alike each year. Bicycling, skating, or just walking down the promenade path of the beach is a favorite pastime for many.
Minor to Severe Traumatic Brain Injuries – What's the Difference?
A traumatic brain injury occurs when a person experiences a hard blow to the head or has their skull penetrated by a foreign object. In some cases, these injuries may be fairly minor. A person with a slight concussion may require nothing more than just a few days' rest.
A moderate brain injury is often defined as one where the victim loses consciousness anywhere from 20 minutes to 6 hours. With a severe brain injury, the injured party has lost consciousness for over 6 hours. Symptoms of moderate to severe brain injuries may include;
Recurring headaches
Frequent vomiting
Dilated pupils
Inability to easily wake up from sleep
Loss of motor skills or coordination
Nose or ears dripping clear fluid
Noticeable changes in mood or behavior
Numbness in the extremities
Seizures
If you are experiencing these symptoms, you should seek medical attention immediately.
Hollywood Head Injury Attorney
The Hollywood head injury lawyers at Wolfson & Leon defend clients who suffer from head trauma or other injuries as the result of a motorcycle accident. Our personal injury lawyers represent clients who have been the victim of;
Motorcycle accident head injury lawyer in Hollywood
Hollywood car crash traumatic brain injury attorney
Outdoor recreational activity accident leading to serious head trauma in Hollywood lawyer
Hollywood attorney for boating accident traumatic brain injury
Hollywood Broadwalk fall injury accident attorney in Hollywood
Parking lot trip and fall accident leading to head trauma lawyer in Hollywood
Lawyer for pedestrian crosswalk accident resulting in a traumatic brain injury in Hollywood
Brain Trauma Injury Law Firm in Hollywood
If you or a loved one has suffered a traumatic brain injury as the result of a motorcycle or other vehicle accident, you should not approach this alone. A Florida personal injury attorney will assess your case and help you to recover the compensation you need to pay for current medical treatment, as well as any continuing care that you may need. They will represent your interests when working with insurance companies or legal firms to either settle or litigate your claim.
Since 1963, Wolfson & Leon has represented victims who have been injured in accidents. They serve clients located throughout Southern Florida from their offices located in Fort Lauderdale, West Palm Beach, Fort Myers, and Miami. If you have questions or need help, call the Hollywood brain injury lawyers at Wolfson & Leon at (954) 530-3918 today.