Slip and Fall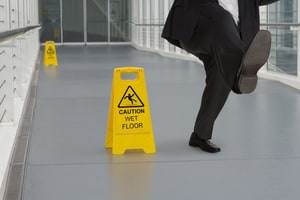 So, you've found yourself in an accident. You don't know how, and you don't understand why, but a day of healthy fun with friends, or a quick supply run has turned into a disastrous event that has left you with shooting pain and piling bills. There was no sign, the floor was just slippery, and you could have sworn that the box that you are now seeing was not there before. When this sort of thing happens, its important to be informed as to what the next step is. After the hospital has checked you out, and you've begun on the long process of recovering, what should you do? Well, for the one you should get in contact with the people who have been working with folks like you to get the compensation they deserve. That is Wolfson & Leon, who've doors opened in 1963 and have been hard at work ever since in helping all those who come to their doors in Fort Lauderdale.
Their time working with premises liability law and personal injury law has set a work ethic in them that has proven to help those who come to them time and again. Should you not believe the words you read through, please take the time to look at their client's review page, there you can see the countless of satisfied clients that have experienced the help that Wolfson & Leon has provided while understanding that each case is unique. With those reviews under your belt, take the time to give them a call, and explain to them your situation. At Wolfson & Leon, they believe that knowledge is power, and a more informed client is one that is ready to tackle all that is sent their way by an uncaring and potentially downright cruel law system. Give them a call right away at (954) 530-3918 for a free consultation, a Fort Lauderdale premises liability lawyer will speak to you right away, and they'll help in setting you on the right path towards the financial recovery that you deserve.
Davie Florida
Davie, Florida, can be a beautiful place to spend your time and raise your family. A wealth of apartment blocks dots the town that provides with affordable living and comfortable space; even the plazas nearby do well to facilitate a tight-knit community. Some of these places include:
Plaza at Davie
University Park Plaza
Tower Shops
Westport Plaza
These and more include shops such as
Publix
Winn-Dixie
Best Buy
Office Depot
AT&T Mobility
Home Depot
Michaels
Ross
Tower Diamond Jewelry
Tilly's
T.J Maxx
Old Navy
Party City
Costco
Any of these areas provide fantastic shopping experiences, but should you find yourself in an accident here, you can be sure that all that welcoming atmosphere you felt only moments ago will vanish fast. That is because these are companies, not just your local stores but corporations who want nothing to do with you after they've gotten the money they need, and who want to do even less with you when you've suffered an accident in their premises. When such an event happens, take the time to get as much information committed to memory, when you speak to a lawyer about it, you can recount and explain your situation, and they'll be able to help you more effectively.
Fort Lauderdale Slip and Fall Attorneys Helping Victims in Davie
Such accidents can be devastating, mainly because they happen when we're not expecting them. They can leave you broke and penniless if you're not careful, especially when dealing with the legal counsel that the company in question will have at their back supporting them. They've got the money to spare, you do not, so take the time you need and speak to a Fort Lauderdale accident attorney from Wolfson & Leon. They can do what they need to to get you on the path towards financial compensation that you may be entitled to receive. Those medical bills won't pay themselves, and you're in no shape to work, so ensure that the responsibility lay with those that caused your accident, and do not suffer silently. Jonah Wolfson and his team of bilingual Fort Lauderdale slip and fall lawyers helping Davie victims are ready to speak to you right away over the phone, give them a call at (954) 530-3918 and get the help you need.