Head Injury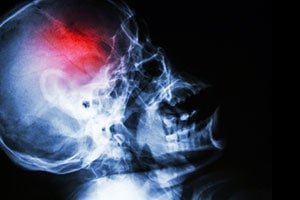 The town of Davie is home to some of the largest commuter college campuses in the state, including Broward College, Florida Atlantic University, and Nova Southeastern University. Thousands of students travel to Davie's college campuses in the fall and spring when classes are in session. In addition to its higher learning facilities, local public schools and trade schools are located around the campus, bringing additional bus, pedestrian, and vehicle traffic to the roads, as well as frequent speed limit changes.
Highly-travelled roads, such as I-595, the Turnpike, State Road 84, and University Drive pose additional hazards to students due to their fast pace and large traffic volume. Given the high volume of traffic on the roads of Davie every day, there is an increased chance of car accidents. Car crashes can result in minor injuries such as bruises, scrapes, burns, broken bones, or cuts. Serious injuries may include injuries to the neck, back, or spine. When a person receives a strong blow to the head, such as when it hits a steering wheel or window, they may experience a traumatic brain injury. These injuries can range from minor concussions, hemorrhaging, skull fractures, or torn brain tissue.
If you or someone in your family has experienced a blow to the head as a result of a car accident, seek medical attention immediately. Symptoms from brain injuries may not be apparent for a few hours or even a few days after the accident. Getting treatment as soon as possible can help to keep a minor injury from becoming more serious, as well as get you on the track to recovery if the injury is severe. If you or member of your family has been involved in an accident that was not your fault, call the Davie head injury attorneys at Wolfson & Leon. Our personal injury attorneys will review your claim free of charge and advise you of your options. They can help you to build a case and will defend your rights when negotiating with insurance companies or legal teams. Call (954) 530-3918 for a free consultation.
Symptoms of a Minor Traumatic Brain Injury
If you've suffered a traumatic brain injury, you may not be able to tell that something is wrong for a few hours or days after your car accident. Noticeable changes in personality or behavior may be the first sign that something is wrong. Other symptoms include;
Headaches, nausea, or vomiting
Difficulty speaking
Problems thinking clearly or concentrating
Memory loss
Changes in senses such as blurry vision, difficulty in hearing, or noticeable changes in taste
Anxiety or sleeplessness
Davie Brain Injury Attorney
Originally called Zona by its early founders, Tamara Touissant and Jake Tannenbaum, the town was later renamed to Davie in 1916 after R.P. Davie, a land developer, built the first school in the area. Since its inception, Davie has been known as a "Western Town." Many of its buildings today still carry on the western-themed architecture and design that Davie is known for.
Based on its municipality classification, Davie is the largest town in Florida and the fourth largest in the country. It boasts several historic and unique sites, including "The Old Davie School," which is the oldest school in Broward County today, Flamingo Gardens, and the Davie Rodeo.
The town of Davie has 101,543 residents with a mixture of racial backgrounds as 46.4% of the population is white, 36.8% are Hispanic, and 8.4% are African American. The median age in the town is 37.7 years, median household income is $64,170, and the median property value is $240,500.
Davie Head Trauma Injury Lawyers
Victims who have sustained brain injuries contact Wolfson & Leon for help. Our Davie head trauma attorneys represent injured parties for matters such as;
Davie attorney for college student car crash head injury
Wrong-way accident resulting in car crash brain injury lawyer
Restaurant wet floor slip and fall head injury attorney in Davie
Davie grocery store entryway fall brain trauma lawyer
T-bone car crash causing serious head trauma attorney in Davie
Pedestrian head injury accident attorney in Davie
Trip and fall accident resulting in a blow to the head injury attorney in Davie
Davie lawyer for apartment complex slip and fall traumatic brain injury
Brain Trauma Injury Law Firm in Davie
Victims of traumatic brain injuries often incur high medical bills to diagnose and treat their condition. In some cases they are unable to work, causing financial stress on themselves and their families. At Wolfson & Leon, we serve clients who have sustained traumatic head injuries from the actions of other people. We defend the rights of victims, either when negotiating a settlement or in a court of law. We serve clients located in South Florida from our Miami, Fort Lauderdale, West Palm Beach, and Fort Myers' offices. If you've suffered a traumatic brain injury, call Wolfson & Leon today at (954) 530-3918.