Car Accident Victims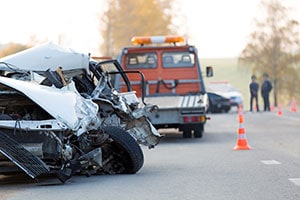 It's never fun to be in a car accident, that's certainly true for any situation with the word "accident" Of course car accidents come with the added caveat of extreme and often fatal bodily harm. We can certainly understand your situation; you've found yourself in a moment of your life where things are not at all as stable as you'd like them to be and turning to anyone you can for help is only natural. With the injuries that you have, the piling doctor's bills, and expenses that are required to make sure your car is back up in shape so you can get to work and pay those bills can leave you short for breath. That is why turning to those that have both the service record and the desire to see you through these times is essential.
The Fort Lauderdale car accident attorneys at Wolfson & Leon has been at the service of folks injured in car accidents all over South Florida and beyond. We believe that our 55 years of service is one of the pillars of our work ethic and that we want nothing more than to ensure that you get the compensation you need to see yourself through the hard times. Giving a call to those that will help you is the first step you can take towards a full recovery - physical, emotional, and most importantly, financial. Give a call to Wolfson & Leon, at (954) 530-3918, and speak to a Fort Lauderdale accident attorney right away in a free consultation. They can get you up to speed on the law and just what the process will be when it comes to dealing with personal injury law. One call is all you need to ensure that your time is not spent looking elsewhere for what you can readily find at Wolfson & Leon.
The City of Coral Springs
Incorporated in 1963, the city of Coral Springs has a long history of planification and development. Originally acres of marshy lands, they were bought up by Henry Lyons and slowly drained of the excess water. Lyons used the area as a bean farm, but his descendants would change the focus on cattle soon after his death. It would be the end of World War 2, and the boom that followed in real estate that would solidify the area as the full-grown city it is today. Coral Ridge Properties, a developer that had already begun work in Broward County, bought up the land and began to work on it. Eventually, a master plan was set up for a city that comprised of fifty thousand residents, and work was underway. The city would continue to expand for years, and with the Sawgrass Expressway built soon after, the town would see even more growth, turning it into the impressive collection of homes and roads that it is today.
Car Accidents in Coral Springs
In past years, there have been twenty fatal car accidents in Coral Springs, according to statistics, not to mention the numerous other non-fatal accidents that have occurred there. The city is well developed, and indeed a place that is the envy of many other cities when it comes to beautification. Regardless, the town still has roadways, and motorists, and with this comes accidents. While fatal accidents can be devastating, it is the less fatal accidents that can follow you around for life. With repair bills, doctors' fees, and worse, you need someone on your side, you're sure will help you through all of this and more. That's why the Fort Lauderdale personal injury lawyers of Wolfson & Leon are here for you.
Fort Lauderdale Car Accident Lawyers Serving Coral Springs Victims
Wolfson & Leon has had 55 years of service when helping the good people of South Florida, and they're more than ready to extend that help your way. Jonah Wolfson, the managing attorney at the firm and his bilingual team, want nothing more than to see you through this hard time, and they're more than prepared to fight for your compensation to do it. Give them a call at (954) 530-3918 to speak to them today. A free consultation is the first step you can take to making a full recovery.