Car Crash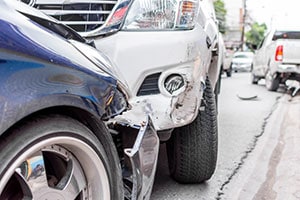 Have you ever realized that your mind was on autopilot as you drove home? Familiarity with roads that we commonly travel on can cause us to zone out or daydream while we drive. Although residential neighborhoods may have lower speed limits, road familiarity can lead to speeding when we aren't paying attention. With our brain seemingly programmed to know the way home, this can interfere with our ability to see common obstacles, such as pedestrians, bicycles, and other cars, which can seemingly pop up out of nowhere.
If you've suffered serious injuries as the result of a car accident, you should seek medical attention, even if you don't think you've been hurt. It may take a few days for your injuries to become apparent and, without medical treatment, a minor injury can become serious. Victims who have been hurt in car accidents often have high medical bills and are unable to work during their recovery. In serious car accidents, victims may need future rehabilitation and in-home care, which is often overlooked when accident victims attempt to settle claims directly with the insurance company. To ensure that you receive the compensation you need for your recovery, speak with a Fort Lauderdale car accident attorney to understand what options are available for you. Find out how you can recover medical expenses and lost wages by calling Wolfson & Leon at (954) 530-3918 today.
Cooper City Car Crash Lawyer
Established in 1959, the area now known as Cooper City received its start in 1952 when New Jersey businessman Morris Cooper purchased 691 acres of land. After retiring to Florida in 1958, he partnered with a group of investors to build a new city by selling homes and plots of land. By 1963, there were 120 homes built on Cooper's 691 acres. However, most of the homes were not sold and his investors began to abandon the new city. Cooper continued to pursue his vision to attract more residents by investing $1,250,000 to build the Cooper Colony Golf and Country Club, as well as establishing more infrastructure with the Cooper City Water and Sewage Company. The city continued to struggle until 1975 when its population surged to 4,000 people.
Today, Cooper City has a population of 35,081 residents. It is a racially diverse community as 57% of the residents are Caucasian, 27.3% are Hispanic, and 7.35% are Asian. There are approximately 11,200 households within the city with a median household income of $98,029. The median property value in Cooper City is $346,800 and its home ownership percentage is 85.7%, which is higher than the national average of 63.9%. There are 18,455 residents living in Cooper City who are employed and spend an average of 26.4 minutes commuting to work. The most common positions that residents of Cooper City hold are in management, sales, and administration. The top industries that employ Cooper City residents include retail, healthcare, and education.
Cooper City Car Accident Lawyer
The Fort Lauderdale personal injury attorneys represent car accident victims who have been injured. We cover a range of accidents including;
Cooper City automobile accident injury attorney
Texting and driving car accident crash injury lawyer in Cooper City
Sidewalk car crash pedestrian injury Cooper City attorney
Cooper City wrong-way driver automobile accident attorney
Head-on collision car crash injury lawyer in Fort Lauderdale
Cooper City attorney for hit and run accident injury
Pedestrian crosswalk car accident injury lawyer in Fort Lauderdale
Parking lot car accident injury attorney in Cooper City
Fort Lauderdale running a red light car crash accident injury lawyer
Attorney for injury resulting from distracted driver in Cooper City
Fort Lauderdale attorney for construction truck injury accident
Lawyer for rear-end car crash injury in Cooper City
Automobile crash attorney for injury resulting from impaired driver in Cooper City
Fort Lauderdale attorney for bicyclist injured in automobile crash
Hit by a teen driver injury car crash lawyer in Cooper City
Cooper City car defect leading to a car accident injury attorney
Fort Lauderdale failure to stop at a red light car crash injury lawyer
Inexperienced driver automobile crash attorney in Cooper City
Faulty taillight causing an injury crash Fort Lauderdale lawyer
Cooper City Automobile Crash Injury Law Firm
If you've been injured in a car accident that was not your fault and aren't sure what to do next, call the Cooper City car crash attorneys at Wolfson & Leon. For over 55 years, our personal injury lawyers have defended the rights of car accident victims. They answer your questions and let you know what options are available to you.
Wolfson & Leon represents car accident victims living in South Florida from their offices located in Fort Lauderdale, Miami, West Palm Beach and Fort Myers. For a free, confidential evaluation of your case, call (954) 530-3918 today.