Traumatic Brain Injury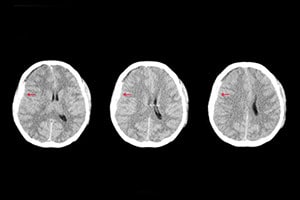 When you're on vacation, the everyday rules of life don't always apply. Perhaps you indulge in one dessert too many. Sunscreen may take a back seat when you are determined to get a tan. Or maybe you've always wanted to try boating, waterskiing, or surfing, but never had the chance.
As much fun as watersports can be, they do pose hazards as a fall in the water can be just as dangerous as one on land. Boats traveling at high speeds can hit other boats, skiers, or other objects, causing injury to those involved. Negligent boat drivers may be driving under the influence or just not experienced enough to properly operate their boat. Boating accidents can hurt those on the boat, as well as others enjoying the water. Accidents that cause falls while you are surfing, wakeboarding, or kiteboarding can result in serious injuries if you hit your head on the board. Watersports that move at high speeds, such as jet skiing, or involve hydroplaning, like tubing, can result in trauma to the head when it hits the water at a fast speed.
Traumatic brain injuries often result from a significant blow to a person's head, which can cause minor to serious injuries, such as concussions, skull fractures, brain contusions, or brain tissue tears. Treatment and recovery from a brain injury can be extensive and costly. Serious injuries can impact the quality of life of a victim as they can result in mobility or cognitive issues. They can place extreme emotional and monetary stress on a family, especially if the injured party is the primary financial support. If you or member of your family has suffered a head trauma as the result of a boating or watersport accident, you should call a Broward County head injury lawyer. A Fort Lauderdale personal injury attorney in Broward County can help families to navigate through the process of seeking compensation for your injuries. Call Wolfson & Leon at (954) 530-3918 for a free evaluation of your case.
Broward County Head Injury Lawyer
Broward County was originally formed in 1915 pulling sections of Palm Beach and Dade into one county. Named after former governor Napoleon Bonaparte Broward, the county currently has over 1.9 million residents. It is a diverse county attracting families, professionals, and retirees alike. Offering a collection of family-friendly cities, including Parkland, Coral Springs, Fort Lauderdale, Miramar, Sunrise, and Plantation, the county has multiple residential neighborhoods, parks, and libraries. Retirees enjoy living in the warmth in its many retirement communities. Eclectic apartment complexes dotted throughout the cities attract young professionals and singles to the area.
Broward County Head Trauma Injury Lawyers
Victims who have sustained brain injuries contact Wolfson & Leon for help. Our Broward County head trauma attorneys represent injured parties in many ways including;
Broward County attorney for boating accident head injury
Surfing head trauma lawyer in Broward County
Blow to the head injury accident attorney in Broward County
Lawyer for car crash accident resulting in head injuries in Broward County
Jet ski accident causing a concussion in Broward County
Broward County parking lot fall traumatic brain injury accident attorney
Brain injury resulting from a sidewalk fall lawyer in Broward County
Lawyer for trip and fall accident in housing complex resulting in traumatic brain injury
Negligent boat operator accident resulting in head injury attorney in Broward County
Shopping mall slip and fall head trauma injury lawyer
Attorney for waterskiing accident resulting in brain trauma in Broward County
Brain Trauma Injury Law Firm in Broward County
Wolfson & Leon serves clients throughout Broward County, including the cities of Fort Lauderdale, Lighthouse Point, Deerfield Beach, Hollywood, Davie, Dania Beach, and Tamarac. From their offices in Fort Lauderdale, Miami, West Palm Beach, and Fort Myers, Wolfson & Leon represents traumatic brain injury clients. They will assess the merits of your claim and advise you and your family of options available to recover compensation to pay for your medical bills, lost wages, and future care that you may need. To speak with a Broward County brain injury lawyer, contact Wolfson & Leon today for a free consultation at (954) 530-3918.