Port Everglades Accident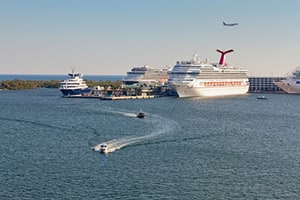 If you suffered a severe injury at Port Everglades in Broward County, then you should call the Port Everglades accident attorneys at Wolfson & Leon. We have helped victims of negligence and intentional acts in Florida since 1963 and we can help you too. Just call us at (954) 530-3918 for your free consultation.
Port Everglades
Port Everglades is one of the busiest ports in the whole world. It is one of the busiest cruise ports, after Port Miami and Port Canaveral, and tenth busiest container port. It serves around 3.4 million passengers per year, and moves around one million twenty-foot equivalent units, making it one of the most important economic centers of Florida.
Port Everglades is the home base of Oasis of the Seas, one of the world's largest cruise ship, and her sister ship Allure of the Seas. Back in 2003, it hosted a record fifteen cruise ships, in times when the closest competitor, the seaport of Barcelona, hosted only nine. Regarding cargo traffic, it is the main seaport for importing alternative fuels, jet fuels, and gasoline. Port Everglades is also recognized as a favorite United States Navy liberty port.
It has a huge positive impact on the local economy. In the small Broward County, it creates an economic impact of billions of dollars annually and employs, directly or indirectly, more than 100,000 people throughout Florida.
Port Everglades Injuries
Accidents happen all the time in busy ports such as Port Everglades. With so many passengers and so much cargo passing through it, it's hard to keep the place safe all the time. The fact that the port is on the water and the sheer size of the of the equipment and vessels themselves, is enough of a recipe for an accident to occur. The ground floor at the port can have many obstacles such as step ups and step downs, as well as surfaces that may be unstable or slippery. You can suffer personal injury there due to many various reasons, but chances are that it could be caused by some of the most common ones:
Port Everglades' slip and fall accidents. Ground and floors should be free of liquids that could cause injuries.
Port Everglades' trip and fall accidents. Ports can have debris and garbage, but it is also the port's responsibility to clean it.
Negligent security at Port Everglades.
Port Everglades crime victims seeking compensation
Personal injuries caused by the negligence of Port Everglades employees or cruise ship staff
Criminal assaults and armed robberies of visitors and cruise ship passengers at Port Everglades
Passenger terminal injuries at Port Everglades
Poorly maintained fences at Port Everglades. Fences are in place for better safety, so there should be no compromise in maintaining them.
Mob behavior and trampling while boarding cruise ships at Port Everglades
Spillage of hazardous materials at Port Everglades.
Unsecured gates leading to dangerous areas at Port Everglades. It is the port's responsibility to keep you and your kids away from dangerous areas
Personal injuries caused by machines operated by Port Everglades employees.
Uber accidents at Port Everglades
Wrongful death claims arising at Port Everglades
Lyft car accidents at Port Everglades
Responsibility of Port Everglades
Port Everglades may be liable for personal injuries under the Florida liability laws depending on the facts of the accident. The port is supposed to reasonably secure a safe environment for visitors. Failing to meet the standards due to negligence can make Port Everglades liable for your injuries suffered on premises under its control. Damages can include medical bills, lost wages, compensation for pain and suffering, loss of enjoyment in life depending on the case.
The Port Everglades accident lawyers at Wolfson & Leon are available to help you determine what entity is responsible for your accident and what compensation you may be entitled to recover. Call us now for your consultation - free of charge. Call us today at (954) 530-3918 and let's discuss your Port Everglades accident and injury.