Lyft Accident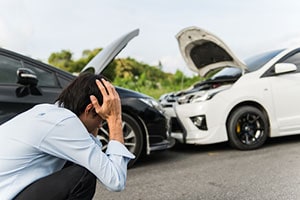 Ride sharing has become a common staple in our modern day. It is very convenient for a small fee and the freedom of not having to drive yourself. Broward county is a large area and in order to get most places, it will require commuting. Utilizing the ride sharing service of Lyft has provided a great alternative to public transportation. This is due to the service being able to pick you up at your residence and bringing you directly to the front step of your desired location. Although you are not driving the vehicle, someone else is, which still provides the same risks of driving in South Florida.
There are several thousand Lyft drivers in Broward County and if you were injured in an accident where one of them was involved, we can help you pursue the compensation that you deserve. We help Lyft drivers, Lyft passengers, and other people who have been injured in a Lyft accident since the times when Lyft entered the Florida market.
You can reach our Broward Lyft car accident lawyers at (954) 530-3918 for free consultations. You have no obligation to hire us and you'll learn about your compensation recovery options. All our consultations are free. We don't ask for fees unless we recover for our clients.
Lyft in Broward County
Broward County is one of the three counties that make up the Miami metropolitan area. It lies on the Atlantic Ocean shore, between the Palm Beach County on north and Miami-Dade on the south. The main cities in the county include Fort Lauderdale, Coral Springs, Weston, Pembroke Pines, Hollywood, Sunrise, Miramar, Pompano Beach, Coral Springs, and Wilton Manors. Interstate 75 and Interstate 95 are passing through the county, offering connections to other parts of Florida. But throughout the county, Lyft accidents can and do happen. The most common of them include:
Broward car accidents due to distracted driving by Lyft driver
Car accidents with Uber and Lyft drivers in Fort Lauderdale
Broward County crashes between buses and Lyft drivers
Head-on collisions with Lyft car driver in Broward County
Broward County Lyft T-bone car accidents and injuries
Truck accidents with Lyft drivers in Hallandale
Broward County lane change car accidents during Lyft rides
Sexual assault accidents by Lyft drivers in Broward County
Broward County Lyft drivers' sexual harassment incidents
Rapes by Lyft drivers in Broward County
Broward County Lyft accidents with bicyclists
Broward County Lyft car accidents with cyclists
Lyft car accidents with pedestrians in Broward County
Road rage car accidents with Lyft cars in Broward County
Broward County Lyft car accidents with motorcycles
Construction zone Lyft car crashes in Broward County
Broward County sideswipe and merging accidents with Lyft drivers
Broward County Car accidents between Lyft drivers
Rear-end car accidents and injuries with Lyft drivers in Broward County
Broward County authorities were very much against ridesharing companies back in the days when they made the first attempts to serve Florida people. However, the many time-tested strategies of Uber and Lyft worked well. The two tech companies started operating illegally and gained support and trust by passengers, but then the Broward commissioners halted their work, causing considerable disagreement in public. Then, the law was changed and now Lyft works in Broward as the second-largest ridesharing company, behind Uber.
Broward Lyft Accident Attorneys
Here at Wolfson & Leon, our Broward Lyft accident attorneys regularly get calls for free consultations by good folks who have been involved in a Lyft accident. All our lawyers use Lyft and Uber on a regular basis. One of the members of our personal injury team is a former Uber and Lyft driver, giving us valuable insight in the everyday challenges the drivers face. That helps us to understand better the drivers, the passengers, and everyone else involved in a Lyft accident. From our Lyft and Uber accident cases, we have also learned a lot about how the insurance coverage works. Call us now at (954) 530-3918 for free consultations. We handle cases on a contingency basis, which means that you'll pay only if we recover for you.