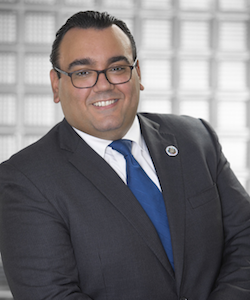 Alfonso "Alfie" Leon Esq.
A Miami native, Alfonso "Alfie" Leon was born, raised, and educated here in South Florida. He is a two-time graduate from Florida International University where he earned a B.A. in Sociology & Anthropology and a Juris Doctor from FIU Law. During law school Mr. Leon distinguished himself as a member of the Board of Advocates, a student attorney in the Health Law & Policy Clinic, a Dean's List recipient and received the Public Service Award upon graduating. After FIU Law, Mr. Leon served the residents and taxpayers of the City of Miami as a Chief Policy Advisor in Miami City Hall. Mr. Leon's responsibilities as Chief Policy Advisor were to oversee and suggest legislation to be adopted by members of the City of Miami Commission which impacted land use, zoning, procurement and quality of life decisions. As an attorney here at Wolfson & Leon Mr. Leon handles litigation matters in the area of personal injury representing clients who have suffered injuries due to the negligence of another person or company. Mr. Leon is bilingual in English and Spanish.
Mr. Leon has had the privilege of representing countless clients in lawsuits against insurance companies. Mr. Leon on behalf of our clients, at Wolfson & Leon, has represented clients with injury cases against; trucking companies, big box retailers, restaurants, grocery stores, hotels, movie theatres. Mr. Leon takes pride in working closely and personally with our clients. He sees that placing special attention in order to understand the impact an accident and resulting injury have on a person's life, and that person's family, is an important part of representing the injured client.
When Mr. Leon is not fighting hard and advocating on behalf our of clients, he is spending time with his wife, Katie, and their newborn daaughter, Victoria.
Education
J.D., Florida International University School of Law, 2014
B.A., Florida International University, 2009
Sociology & Anthropology Major, Elected Student Body President.